SALES FORECAST
May Sales Strong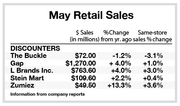 May sunshine stoked consumer demand, and retail sales increased 4.8 percent, beating estimates, according to Michael P. Niemira, chief economist for the International Council of Shopping Centers, a prominent trade group that keeps an index of chain-store sales.
"The beat went on as consumer spending continued to remain quite healthy this past month with pent-up demand lifting sales after tough weather conditions constrained sales in the first few months of the year," Niemira said.
Niemira had forecast that the month's sales would increase only 3 percent to 3.5 percent. In a June 3 note, he wrote that sales had "soared" during the last week of the month, which included the Memorial Day weekend.
Adrienne Tennant, a prominent Wall Street analyst, agreed that warmer weather released pent-up demand for clothing and other soft goods. However, she wrote in a June 5 note that May's sales performance was mixed. Zumiez Inc. reported strong sales in May, with its same-store sales increasing 3 percent. L Brands, the parent company of Victoria's Secret, posted a same-store-sales increase of 3 percent for May. However, The Buckle Inc. reported a decline of 3.1 percent in May. "We had expected May to be generally "okay" and heavily driven by ongoing aggressive promotions," Tennant wrote. She works for Janney Capital Markets.