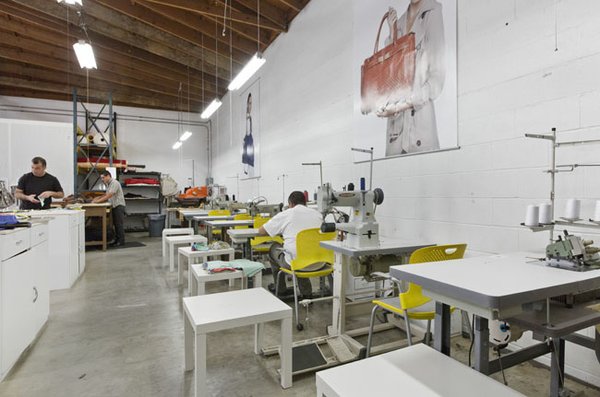 ONNA EHRLICH
Staking a Claim for Made-In-America Production in Inglewood, Calif.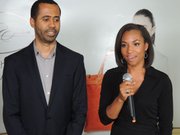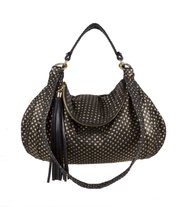 Is the next fashion frontier Inglewood, Calif.?
When accessories designer Onna Ehrlich and her husband and business partner, Joel Bell, outgrew their studio space in nearby Culver City, the two looked south to Inglewood, where they recently opened a design studio and factory.
The 4,800-square-foot factory, located just off La Brea Avenue, one of Inglewood's main strips, is headquarters to Onna Ehrlich LLC and serves as a design space for the Onna Ehrlich handbag line and a design and production space for the company's new LA Luxe collection.
Ehrlich presided over a May 30 reception at the factory, which was attended by Inglewood Mayor James T. Butts Jr. He gave Ehrlich's company a city proclamation, and she introduced the new LA Luxe collection at the festive event.
The Onna Ehrlich handbag line has been in business since 2004, but it had been designed in Culver City and manufactured in downtown Los Angeles. When it was time to expand, Ehrlich and Bell asked a realtor to find a manufacturing space. Similar facilities around Culver City go for more than $1 million, Ehrlich estimated.
Industrial space is plentiful in LA County, said Kent Smith, executive director of the LA Fashion District Business Improvement District. He estimated that a square foot of industrial space could range from 50 cents to 75 cents per square foot in some areas around downtown Los Angeles.
Ehrlich and Bell bought their Inglewood facility for $700,000. The expansion, like the business, was self-financed, Ehrlich said.
Ehrlich moved her small fashion design and manufacturing business—she employs 13 full-time people—to Inglewood out of a mix of self-interest and civic pride.
"It was the one place on the Westside that was still affordable," Ehrlich said. She also is an Inglewood resident and drives less than five minutes to her office. "We want to be part of this new rejuvenation in Inglewood. Why not invest in a place that you already believe in?" she said.
Poised for growth
With the January reopening of the Forum events venue by the Madison Square Garden Co., Inglewood is poised for retail growth. The city, located more than 10 miles south of downtown Los Angeles, is the new home to independent boutiques such as Phenomenal Threadz, which opens on June 7. A mixed-use development of residential and 620,000 square feet of retail will be developed on the grounds of the Hollywood Park racetrack, the 75-year-old horse racing track scheduled to close by the end of the year. Construction is forecast to start on the project this year, said Harjinder Singh, the finance supervisor for the city of Inglewood, but the completion date for the residential and retail project is scheduled in the next five to eight years.
Earlier this year, ground was broken on the Metro light-rail Crenshaw/LAX Transit Project, which passes through Inglewood. The $2.058 billion project will create an 8.5-mile light-rail line. It also is expected to attract new retail to service commuters, said Yaisa Smith, a co-owner of Phenomenal Threadz. "Crenshaw has really opened up a lot," she said. "You see little boutiques that have opened up. … Inglewood is expanding. Businesses are coming."
Inglewood's manufacturing scene is small. A Department of Defense contractor, The Marvin Group has been headquartered in Inglewood for more than 50 years. But Ehrlich has brought fashion to town. She and Bell remodeled the building, which was the former site of an electronics engineering business.
"There were aisles of electrical equipment," she said. "We had to have all the aisles broken down, then painted, then the floors polished."
By the time most of the facility was renovated in July 2013, it was a light-filled space where the Onna Ehrlich handbags and jewelry are designed. There are more than six sewing stations in the back, a space for salespeople to conduct business, a photography studio and offices for Joel Bell Industrial Design. Ehrlich estimates that only half the facility is in use now.
Onna Ehrlich handbags have been sold at retailers such as Nordstrom, Kitson and Henri Bendel, but much of the sales are done through the company website (www.onnaehrlich.com). Retail price points range from $99 to $1,400. The handbags are distinguished by metalwork designed in-house, textured leathers and classic handbag silhouettes.
The company's jewelry is still made in downtown Los Angeles. Many Onna Ehrlich handbags are manufactured in Asia, but the manufacturing of the company's LA Luxe collection in Inglewood is a commitment to manufacturing in America, said Ehrlich, who immigrated to America from Nigeria as a teenager.