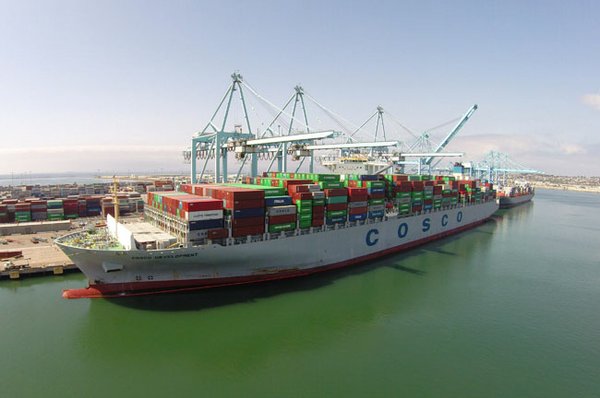 IMPORT/EXPORT
Delays Mount in Retrieving Cargo at Port of LA
Truck drivers are waiting as long as five to six hours to pick up cargo at some terminals at the Port of Los Angeles.
The delay to haul out cargo is caused by a number of factors. Bigger ships are arriving with more containers, adding to the already mountainous cargo backlog, and more importers are bringing in goods earlier than normal because of a possible longshore worker strike or slowdown as a new six-year contract is being negotiated. The contract expires at midnight on June 30.

"The unloading is slower, and the poor truckers are having a harder time to get the cargo out because there is a lot of cargo," said Enrico Salvo, chairman of Carmichael International Service, a Los Angeles customs brokerage and freight-forwarding service with a number of apparel clients.
Salvo noted that the slowdown varies from terminal to terminal, but APL, formerly known as American President Line, has been experiencing some of the longest delays at its APL Terminals.
More than two weeks ago, the shipping line, which docks at the Port of Los Angeles, changed the way it delivers cargo containers for pickup. The Singapore-based shipper used to put its cargo containers on wheeled chassis that then were collected by truckers. Now the shipping line is loading the containers onto the dock and making the truckers or their companies supply the chassis.
This is part of a larger movement by shipping lines to get out of the chassis business and put the burden of providing wheeled chassis on other parties.
Cargo has been so backed up at the APL terminal that the shipping line recently sent out an email to the Los Angeles Customs Brokers and Freight Forwarders Association explaining that a number of factors have contributed to the cargo pileup. One has been the chassis divesture. Another has been a heavy volume of cargo arriving prior to a potential longshore workers strike if contract negotiations don't conclude smoothly. Another reason was a shortage of trucks and rail cars.
To alleviate the congestion, APL said, it was transferring hundreds of local containers to an off-site facility for retrieval. In addition, it was opening a special night gate for larger customers "to dray off the heavy volumes," and it has hired a number of shuttle drivers to transfer cargo containers to freight trains.
When it comes to docking APL vessels, the company said one of its services was being rerouted to the California United Terminals near the APL terminal for the next four sailings and other vessels would have staggered arrival times at the Port of Los Angeles.
Emails to APL's headquarters in Singapore about the backlog were not answered by press time.
Truckers get the short stick
Truckers and transport services are throwing up their hands in frustration about the APL delays. Bob Curry, president of the trucking, distributing and warehousing firm California Cartage Co., said pickup times have lengthened. "For a driver to get in and out of that terminal, the time has doubled or tripled," he said. "Some are waiting as long as five to six hours to pick up one load. We have drivers ready to walk off."
Curry noted that the other port terminals aren't as bad as the APL terminal, but many are slow. "You can't get a truck driver anymore because it is not like it used to be," he said.
Meanwhile, the largest cargo-container ship to ever dock at the Port of Los Angeles landed at the AP Moeller pier on June 11. The Cosco Development, a vessel owned by China-based Cosco Container Lines and carrying 13,000 20-foot containers, is a challenge to unload but was done successfully. It carries almost twice as much as the average cargo container ship. It left the port on June 14.
Several customs brokers have noticed that cargo pickup times have grown in recent weeks. Robert Krieger, president of Krieger Worldwide in Los Angeles, said that fully loaded cargo containers are taking a day or two longer to retrieve. Cargo that shares a container with other cargo takes as much as two or three extra days to receive as the container is unpacked and separated. "There is something going on that we don't understand," he said.
Tom Gould, senior director of customs and international trade with the international trade law firm Sandler, Travis & Rosenberg, said there were a number of things causing cargo delays. "A lot of it is because companies have been pushing up their timeline to move more stuff in June in anticipation of the longshore workers [contract] negotiations," he said.
Cargo-container traffic was up in May at both the Port of Long Beach and the Port of Los Angeles. These two facilities handle more than 40 percent of all the cargo containers shipped across the Pacific Ocean from Asia.
The Port of Los Angeles handled 689,141 container units in May, an 8.2 percent jump from the same time last year. The Port of Long Beach had its busiest May since 2007 with 599,509 container units passing through the docks. That is a 2.3 percent jump over the same month last year. "I think we will be seeing a little surge in June," said Art Wong, a Port of Long Beach spokesperson.
Labor negotiations
Meanwhile, representatives of the International Longshore and Warehouse Union, which represents 13,600 registered workers at 29 West Coast ports, and the Pacific Maritime Association, whose 72 members include shipping lines and terminal operators, have been meeting in San Francisco since May 12 to hammer out a new six-year contract.
Few believe the negotiations will be wrapped up by the June 30 deadline, but many remain optimistic the new contract will conclude without either side making any waves.
No one wants to see a repeat of 2002, when longshore workers were locked out of their jobs for 11 days after terminal operators and shipping companies accused them of a work slowdown.
President George W. Bush invoked the Taft-Hartley Act and got a court order to open up the ports again. But the lockout caused billions of dollars in damages to a wide array of companies unable to get their goods in on time to sell to retailers for the holiday season.