As of Thursday, June 26, 2014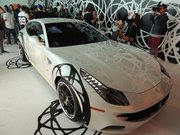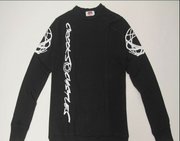 The Spring '15 looks of Crooks & Castles are in stores, and the streetwear brand's Fall '14 styles will be previewed at the upcoming Agenda trade show in Long Beach, Calif., but the Crooks label made one of its most heartfelt statements on June 19.
It is the Lewds Collection, the Los Angeles streetwear brand's tribute to Christopher "Lewds" Natalio, Crooks' former marketing director. When he died suddenly in 2012, said to be of a heart attack, it sent shockwaves through the hip-hop and streetwear communities.
Hip-hop star Drake devoted a song to Lewds' memory during a 2012 concert. The brand soon honored his memory with hangtags featuring the words "RIP Lewds." But it wasn't enough, said Dennis Calvero, Crooks' co-founder and creative director. "Lewds was the Robin to my Batman. He was my greatest supporter. He was my best friend for 20 years. … We wanted to dedicate a collection to him," he said.
The collection took a bow with an event that Lewds would have loved. It was a party and exhibition at the Known Gallery on Los Angeles' Fairfax Avenue, a few storefronts down from the Crooks flagship store at 455 N. Fairfax Ave. Hip-hop innovator Russell Simmons appeared at the event. The party's exhibit included pieces from the Lewds line and, for a little automative bling, a Ferrari FF hatchback luxury car detailed with graphics from the new collection.
To give the Lewds collection an added edge, the Crooks team called on Futura, the pioneering graffiti artist who gained fame doing murals on New York City subway cars. Futura also collaborated with iconic rock band The Clash, providing art for the band's 1982 album, "Combat Rock," as well as a rap on their song "Overpowered by Funk." A book on his art is tentatively scheduled to be published in 2015.
In a tragic twist, Futura was present at a gathering at Lewds' house the day he died. Futura and his son, a photographer who goes by the name 13th Witness, had been friendly with Lewds and his fellow Crooks for some time.
The artist sent the Crooks label some original art for the collaboration. For a signature look, the Crooks design team decided on a drawing of several intersecting circles, which looks like an atom diagram spray-painted on a graffiti mural. The capsule collection also presents Futura's iconography and lettering style through the brand's sensibility. The collection's looks include T-shirts, fleece, snapback caps, bucket hats, baseball jerseys and compression pants, among other styles, and they will be retailed exclusively at the Crooks Los Angeles flagship. Retail price points will range from $40 to $110.
The collection is manufactured entirely in the U.S., said Emil Soriano, Crooks' apparel design director. The capsule will have a lot to say, he said. "We're bridging that intersection of who Futura is and who we are as a brand," Soriano said. It will also tell the story of Lewds, Crooks' great friend.