What Buyers Are Looking for in an Apparel Company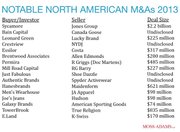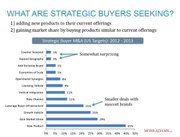 This year could be a very good year for apparel companies that have a "For Sale" sign hanging outside their front door.
Private-equity firms have lots of cash sloshing around their bank accounts, and big publicly traded apparel companies are seeing their stock prices in healthy territory, which helps to capitalize new acquisitions.
"Mergers-and-acquisitions activity will be up 5 percent to 10 percent or more this year. We see it rebounding from last year," said Geoffrey Haydon, vice president at Moss Adams Capital. "We think strategic buyers [buyers who are looking for products to enhance their existing company] will be much more active this year than they were last year. … There were a lot of private-equity deals done last year, and we think this year will sustain that level."
Many of the big guns, such as VF Corp., have been sitting on the sidelines, fretting about which direction the economy will take.
But the large corporations are making an appearance again. Late last year, PVH Corp. bought The Warnaco Group for $2.9 billion, bringing the Calvin Klein labels under one umbrella.
Shoemaker Steve Madden this month purchased the high-end shoe label Brian Atwood from The Jones Group Inc.
Also in March, Brown Shoe Co., usually an active buyer but who made no acquisitions last year, purchased shoe and handbag brand Franco Sarto for $65 million.
Diane Sullivan, chairman, president and chief executive of the St. Louis–based Brown Shoe Co., said she acquired the Italian footwear brand because she was interested in shifting away from licensed brands and wanted to add more owned brands to the company portfolio.
This philosophy bodes well for apparel and accessories companies looking to be acquired.
Acquisition evolution
While strategic buyers such as Brown Shoe Co. are starting to make acquisitions again, most financial experts believe private-equity firms will continue to be eager to pony up money to buy a brand and then pump it up. Industry insiders said many apparel company owners would rather sell to a private-equity company than an existing apparel company.
"Many times when a seller has a choice between a private-equity company or a strategic buyer, the private-equity buyers can move quicker. They don't have to manage quarterly earnings like the big strategics do," said Philippe Faraut, managing director with Intrepid Investment Banking in Los Angeles. Faraut was instrumental in selling Star Avenue Capital a majority interest in Los Angeles denim maker J Brand in 2010.
Also, private-equity companies often pay the entire purchase price of the company up-front, while publicly traded strategic companies pay with stocks and a gradual earn-out over a five-year period.
"Private-equity companies don't integrate you into another business, which can be painful and loses the culture of the brand," Faraut added.
There was a time that big publicly traded companies, part of the strategic buyers club, were gobbling up apparel labels like they were jelly beans.
Case in point was Liz Claiborne Inc., which decided to grow revenues through acquisitions. Its buying spree started in the late 1990s and included several California companies, including C&C California, Shelli Segal, Juicy Couture and Lucky Brand.
In the past few years, Liz Claiborne began whittling down its acquisitions for badly needed cash during the recession. Late last year it sold two of its last labels, Juicy Couture to Authentic Brands Group, and Lucky Brand, to Leonard Green & Partners for $225 million. Liz Claiborne now only has one brand, Kate Spade. Since selling all its brands, the company, known as Fifth & Pacific since 2012, changed its name to Kate Spade last month. (The Liz Claiborne label was sold to JCPenney in 2011.)
VF Corp. was also an avid consumer of brands, including California companies 7 For All Mankind and Splendid. But VF has been relatively quiet on the acquisition front after unsuccessfully bidding $556 million for Billabong International last year.
But things are turning around. U.S. apparel companies that are actively looking for new clothing brands to boost their portfolios are Oxford Industries and G-III, financial observers said.
On the international front, there are several big retail and apparel companies that want to tack on U.S. brands to their portfolios. Uniqlo owner Fast Retailing Inc., based in Tokyo, acquired 80.1 percent of J Brand in 2012. Fast Retailing said it bought J Brand to extend the company's portfolio of affordable luxury apparel and leverage J Brand's know-how in the premium-denim arena.
French luxury and lifestyle brand PPR, owner of Gucci, Alexander McQueen and Saint Laurent, bought Southern California surfwear brand Volcom for $607.5 million in 2011.
Last year PPR, now called Kering, took a minority stake in the New York–based Joseph Altuzarra label. The goal is to take the brand to the next level.
Selling points
Strategic buyers are looking for new products that don't cannibalize their existing businesses, experts said. "There are still strategic buyers in certain categories. Those categories include lifestyle brands and companies with stores," said Paul Zaffaroni, director of investment banking at Roth Capital Partners.
Many apparel and footwear companies that have seasonal products are looking for merchandise to complement their collections. For example, Deckers Outdoor Corp. in Goleta, Calif., whose principal footwear label is Ugg Australia boots, bought California sandal maker Sanuk in 2011 for $120 million to add more year-round sales possibilities.
Private-equity firms are looking for companies that have growth potential, good gross margins and not too much risk in their fashion product. They also like to see core items make up 25 percent to 35 percent of an apparel line. "Maybe it is a simple block print and you just change the colors from year to year," said Moss Adams' Haydon.
They are also looking for licensing possibilities and international expansion that can be enhanced with an infusion of capital.