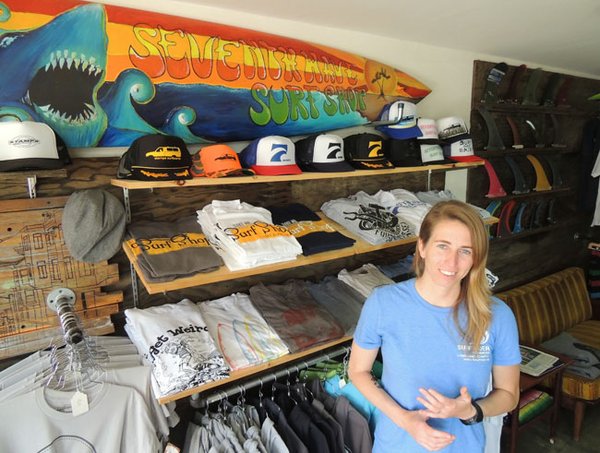 SWIM/SURF
The Surf Shop In a Town With No Waves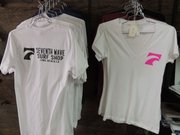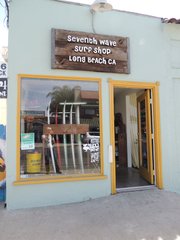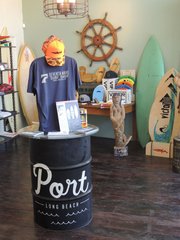 Seventh Wave Surf Shop attempts the seemingly impossible. It's a surf shop in a town with no waves. Its specialty is showcasing independent surf brands looking for space in a very crowded market.
It also has the distinction of being the only surf shop in Long Beach, Calif. There have been no waves in this port city—hence, no surfing—for decades.
A breakwater structure was constructed in Long Beach harbor during the 1940s to protect ships from the incessant beating of ocean waves. The breakwater has been a big success in reducing the intensity of waves. But it has driven many surf dogs living in Long Beach to the nearby towns of Huntington Beach and Palos Verdes Estates to catch a wave. But if Long Beach people surf globally, Seventh Wave owner Kelli Koller bets that they'll be shopping locally, and so far she has been right.
The shop has been important for Long Beach's surf scene. Seventh Wave created a hangout for Long Beach surfers, said Cliff White-Kjoss, a Long Beach surfer and Los Angeles County lifeguard. "She's building bridges for surfers here," he said.
Seventh Wave does business at 2714 E. Fourth St. at the edge of the city's popular Retro Row shopping district, which is lined with vintage-clothing shops, stylish new boutiques and cafés all infused with a laid-back hipster ambiance.
Koller designed the Seventh Wave as a garage packed with hand-me-down furniture, surfboards from Seal Beach shaper Stamps Surfboards and a bunch of local, independent surf brands.
"I enjoy supporting local," Koller said. "I feel that most industries, including the surf industry, have become sterile and impersonal. I enjoy supporting local, and there is a lot of creativity close to home."
She contends that indie brands have given her shop a competitive advantage. "You can't just walk into another surf shop or retail store and purchase the same thing," she said.
Popular brands are Poster List, Port and Koller's brand, Seventh Wave. The lines are obsessed with Long Beach surf culture. A popular tee from Port bears the slogan "Sink the Breakwater." Poster List T-shirts also get in the game with their tees that bear the slogan "Surf LBC." Caps and T-shirts from Seventh Wave bear the logo of the shop. Because surfers tend to be some of the most supportive consumers, soft goods bearing the name of the Seventh Wave have been popular. Retail price points for Seventh Wave are $20 for T-shirts and $18 for caps.