As of Thursday, May 22, 2014
Photo Gallery
Academy of Art Graduation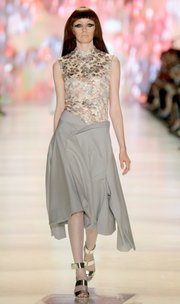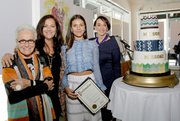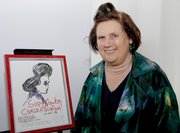 Members of the Missoni family—including Rosita Missoni, Angela Missoni and Margherita Maccapani Missoni—were the guests of honor at the Academy of Art University Graduation Fashion Show and Awards Ceremony, held May 8 in San Francisco.
The event drew representatives from fashion companies such as Abercrombie & Fitch, BCBGMaxAzriaGroup, Levi Strauss & Co., Li & Fung USA, Old Navy and Pottery Barn and featured the work of 20 students in the design school's Fashion Design, Knitwear Design, Technical Design, Textile Design, and Jewelry and Metal Arts programs.
"Part of our commitment to the designers is to help launch their careers and have their collections seen by as many industry professionals as possible," said Elisa Stephens, president of the Academy of Art University.
The Missonis also participated in a discussion with Suzy Menkes, international Vogue editor of Condé Nast, and moderated by Gladys Perint Palmer, fashion illustrator and executive director of the school of fashion.
On the runway, the students drew inspiration from everything from "traditional Bavarian clothing as well as the formation of glaciers" to seashells to the Megatron character from the movie "Transformers."
Several designers collaborated together to create collections featuring original textiles and jewelry design.
Menswear design student Zonic Kwong worked with knitwear design student José Dojaquez on a collection inspired by the layered looks of nomads and featuring knits that "blended silhouettes from Tibetan monks with those seen on street basketball players." Fashion design student Karina Denery provided the accessories for the runway show.
Fashion design student Morgan Truong worked with industrial design student Han Huynh, who created 3-D–printed accessories inspired by car engines that were worn with Truong's designs, which modernized "the shapes of both the interior and exterior of retro-style cars."
Fashion design student and Missoni internship winner Yuko Okudaira worked with graffiti artist Liang Huo, a student in the school's Animation and Visual Effects program, to create the spray-painted fabrics used in her collection.