As of Thursday, May 22, 2014
Photo Gallery
California College of the Arts Runway Show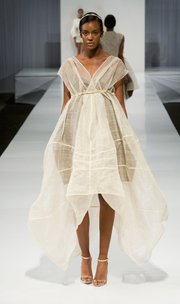 Nearly 20 seniors in the California College of the Arts fashion design program presented their work on the runway on May 16 at the design college's annual fashion show, held in a tented space on a newly acquired 2.5-acre parcel on the CCA San Francisco campus.
"There is nothing quite like seeing your designs on a human body. The runway show is the capstone experience for a fashion designer," said Amy Williams, chair of CCA's Fashion Design Program. "Our students pour their passions into designs that express their training and individual ideals, anticipating the moment their collections come to life on the runway."
The designers showcased women's, men's and children's apparel that drew inspiration from samurais and Japanese costumes to novels based in the Chinese Tang dynasty to minimalists such as architect Mies van der Rohe, artist Donald Judd and industrial designer Dieter Rams.
Shirley Chong was inspired by René Magritte's 1934 painting "The Collective" to research historical fishermen's gear for her collection, which was made using laser-cut engravings on the fabric. Sindia Lin also found inspiration in surrealism for her childrenswear collection, which she called "Realm of Dreams."
Erick Lopez imagined an "elite athlete, 'Frankensteined' by scientists," for his menswear collection, called "Modified," and Michelle Nam's collection, "Keeper," was inspired by a love of collecting "odd little objects as a child, finding joy in gum wrappers, miniature figurines and so on."
Dagmar Spichale Krynski and Tasleem Lee were both inspired by a sense of fun and happiness while Lily Lei imagined "the world of the grotesque."
Sarah Mayer drew inspiration from her Cambodian and American heritage by "blending the apsara, the traditional dress of the Cambodian dancer, with American resortwear of the 1950s and 1960s," while Jasmine Smith took the "energetic color palette" of her Bahamian heritage and "an added touch of 1990s minimalism."