As of Thursday, September 18, 2014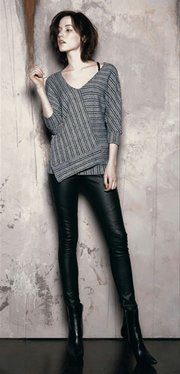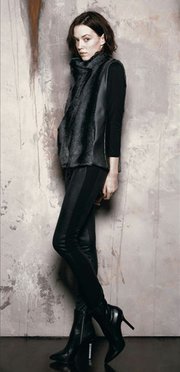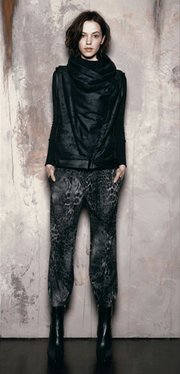 Joan Oh, designer of Evleo, started a luxury women's contemporary line focused on leggings. The sought-after bottoms were quickly picked up by style icons such as Alessandra Ambrosio, Gwen Stefani, Emily Blunt, Cara Delevingne and Heidi Klum.
The Los Angeles–based premium brand debuted in 2013 at MAGIC in Las Vegas, where Oh landed a slew of orders. After a successful first season, Oh learned how to perfect a pair of leggings combining both comfort and style and realized there was room to expand her line.
Building off the launch collection's focus on basic leisure items in lighter shades, Oh added more tops to the collection to work with the leggings as sets. The new Fall/Winter 2014 collection follows a darker trend with "an obvious change in color palette" from the previous season, Oh said. There are fall colors such as mahogany and dark-gray distressed leggings. The new collection also includes outerwear designs, such as a stand-out black leather jacket with an exaggerated wool collar that can be reworked as a scarf coat with zipper details.
"Aesthetically, I put in more daring silhouettes [in this collection], with thicker luxe fabrics for tops. For our bottoms, there's a nice range of slim leggings, unique harem cuts and even joggers. Comfort comes in different cuts and silhouettes, so I touched on all of them," Oh said.
Oh previously worked in advertising in Korea. After moving to Los Angeles, she attended the Fashion Institute of Merchandising and moved into jewelry making, eventually exploring apparel.
The pieces are often inspired by Oh's travels. After visiting new places and taking in a city's culture, Oh references wall textures and architectural buildings for prints and silhouettes. The snakeskin print, for example, has been a consistent pattern in her collections from season to season. "It's the perfect mix of edgy, sexy and cool," she said.
Oh sources fabric from all over the world, using high-end ponte and rayon blends, usually embossed or with a special fabric treatment. All the products are made in Los Angeles out of Oh's own factory. "We found it easier to monitor the manufacturing process when it's closer to home," she said.
Evleo's wholesale price points range from $45 to $60 while some of the leather pieces run a bit higher with wholesale price points topping out around $400. The line is currently available online at Shopbop and Bloomingdale's and soon at Saks Fifth Avenue.
For sales information, contact Christine Simek at christine@circle5showroom.com or (213) 622-6922.