As of Thursday, May 29, 2014
After 30 years making patterns manually, New York–based eveningwear and dress maker Adrianna Papell is computerizing the product-development process with Los Angeles–based technology-solutions provider Tukatech.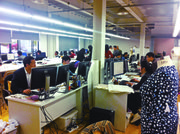 The Adrianna Papell offices in New York and China have installed Tu­kacad for pattern making and grading, Smartmark for automatic marker making, and Tuka3D for virtual sample making.
"Bringing Tuka in has now given us the opportunity to work in the current world of technology, which will enable us to produce patterns faster, digitally and, above all, with more precision," said Ashesh Amin, Adrianna Papell chief operating officer, in a company statement. "Implementation of the Tukatech CAD technology impacts our business in many areas, including reduction in fabric consumption, accuracy of patterns and grading, and eliminating the time and money spent on sewing real samples."
Lili Zhou, the com­pany's executive vice president of sourcing and production, praised the implementation process.
"Tukatech engineered our process, trained our pattern makers and im­proved our total process with their experts," she said.
In addition to evenin­gwear and day dresses, Adrianna Papell manu­factures private-label sportswear. The compa­ny's brands—including Adrianna Papell, Aidan Mattox and Hailey Logan—are sold in depart­ment stores, including Nordstrom and Bloom­ingdale's.