As of Thursday, September 18, 2014
After years designing for brands and re­tailers such as Patterson J. Kincaid, SNT Workshop, Arden B and Lucky Brand, Diana Ra wanted the full creative autonomy and freedom of launching her own fashion line.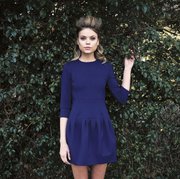 D.RA, which debuted at the February 2013 run of the Coterie show in New York, is a contemporary clothing line with a very California, boho spirit.
"When you live in a place where it's mostly sunny all year round, it's hard not to be inspired by the lifestyle," Ra said. "But SoCal is slowly evolving with the influx of culture and cuisine, and this transition is mirrored in our line to coincide with these new movements."
The collection draws inspiration from vintage pieces, which are coupled with a "love of structure, which helps balance the collection," Ra said.
"After all, the fun-loving California girl is still a working professional," she said.
The line ranges from fun, bright florals for Spring/Summer to more dark-ground florals for Fall, but a few pieces will carry over from season to season in new fabrica­tions, Ra said.
Most of the pieces can be mixed and matched, and d.RA offers a range of silhou­ettes, colorful prints and solids.
"We are very selective when it comes to prints—mainly because this is one of the stand-out characteristics of our brand," Ra said.
Cotton-blend fabrics are sourced from India, and printed wovens are sourced from across the globe, including New Zealand, Spain, Germany and Turkey.
Pieces include long flo­ral-print maxi dresses, short kimono-style dresses, flirty ruffled short skirts and long beach-style skirts, as well as separates, sweaters, shorts, bottoms, jumpers and jackets.
Every delivery includes be­tween 20 and 25 pieces.
"We perceive ourselves as being more of a piece-driven line, but every delivery is mer­chandised in a way to where it reads as a true collection but still maintains a level of interchangeability," Ra said. "Our pieces can be easily paired with your basic skinny black jeans or cut-off shorts. I do love the idea of coupling something soft with something structured; pairing a flowy dress, for instance, with a smart blazer and usually with some great sneakers."
Most of the production is done domesti­cally, although pieces with special details, such as intricate embroideries, are manufac­tured in India and China.
Retail price points range from $68 to $148. The line currently sells at ShopBop, Revolve, Anthropologie, Urban Outfit­ters and the d.RA online store (draclothing.com). For sales information, contact Colbi Rae at eM Productions at colbi@emprds.com.