For siblings Adam, Ania and Mark Taubenfligel, launching a denim brand was a matter of combining three interests. Creative director Adam is the denim and manufacturing expert; Ania is the equestrian and fashion model, who helps creatively; and business director Mark is a custom motorcycle designer who handles sales and styling.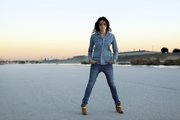 The three make up Triarchy, a Los Angeles– based denim brand that combines the form and grace of equestrians with the edginess of motorcyclists.
"For me, jeans are synonymous with horseback riding and motorcycles," so it made sense to work those elements into the foundation of a denim line, Adam Taubenfligel said. Taking inspiration from the likes of James Dean and Steve McQueen, they do not want anything that looks too cowboy or rock 'n' roll biker. "We want it to be nostalgic—picture Grace Kelly riding a horse," Ania Taubenfligel said.
Triarchy originated in Vancouver, Canada, in 2010, shortly after Adam Taubenfligel finished a stint designing for an Italian denim line. Ania Taubenfligel was working as a fit model for the same company. When the company closed, the two moved back to their native Canada with unfinished design projects and denim sketches. Mark Taubenfligel was living in Vancouver, building his motorcycles and finishing his business degree. The three regrouped and moved forward with Triarchy.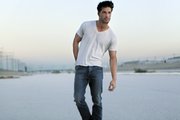 The group started designing jeans with a focus on comfort. They found a simple 2 percent stretch was sufficient as long as the weave was constructed properly. "We visited mills and tested samples until we found the ones we liked the best," Adam Taubenfligel said.
All manufacturing is done in Los Angeles, and the fabrics are sourced in Italy and Turkey. "Being in Los Angeles gives us great resources, and everything is within walking distance—suppliers, wash houses and infrastructure is here," Adam Taubenfligel said.
In the past, the Taubenfligels worked with tie dyes and colorful washes but are focusing on cleaner styles moving forward. The Winter/Autumn 2014/2015 collection includes an equestrian inspired denim riding pant featuring a denim-on-denim patch or leather-on-denim, as well as a hydra-coated denim that looks and feels like leather.
"We wanted an old-school, rugged classic twill but wearable and comfortable [for men]. Guys like this more than a novelty—or at least our demographic does. When I work with stretch, I want to avoid bagginess," Adam Taubenfligel said.
The Taubenfligels describe it as Triarchy's "'40s denim."
"It has an authentic weave but incorporates modern advances like stretch. It is a combination of the Old and New World," Ania Taubenfligel said.
This season, the men's denim features a 13-oz. Italian denim with 2 percent stretch. Colors include green, mustard, brown and shades of blue, including a raw selvage denim and a medium-blue stone wash, gray, black and white cotton.
They offer a leather powder-coated jean and vintage sand-wash variations, as well as a classic cotton in a slim and straight fit. Every pair features hardware that is cast to resemble a part from one of their custom vintage motorbikes that Mark Taubenfligel designs. The men's collection has a motorbike bolt under the waistband, as well. Wholesale price points range from $100 for a basic wash to $140 for a coated style in charcoal, green, black, gray or brown.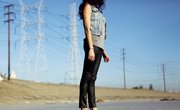 Women's styles include a skinny, five-pocket trouser and boyfriend. The riding jean, featuring the leather or denim inseam, offers a touch of style but also eliminates wear around the middle thigh area of the jean. This style wholesales for $140.
The "hydracoated" jean, which wholesales for $120, is environmentally safe and comes in its form from the mill with no added coloring, dyeing or additional wash treatments, Adam Taubenfligel said.
"It is like a vegan leather and in the sun has an iridescent [shine]," Ania Taubenfligel said. The "crackle" coated jean, which wholesales for $125, comes in white and black and features a gel coating that is applied, dried and sprayed.
Triarchy is currently sold online on its retail site and at select stores across Canada and the U.K. "Since January, when we launched our online site, sales have been great. We plan to retail small production starting at the end of this month for U.S.-based stores. We will do a proper showing for Spring 2015 and, meanwhile, give [retailers] a taste of our brand and gradually move into larger runs," Adam Taubenfligel said.
Triarchy will soon be expanding into accessories, including leather gloves and incorporating more of the "riding" aspect into it. "I will be working on a saddle, as well," Ania Taubenfligel said.
For sales information, email sales@triarchy.com.