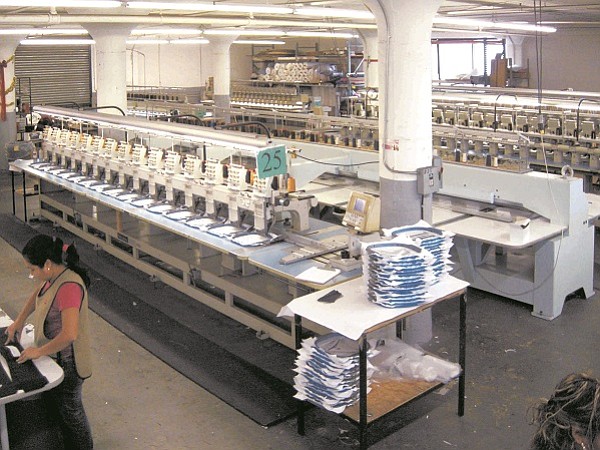 Basic Line Corp. Selling Its Embroidery and Embellishment Company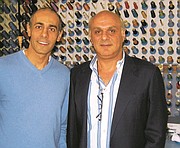 For nearly 23 years, the Shalom brothers have operated a popular embroidery and embellishment company out of a huge industrial building they own in Vernon, Calif.
Azad and David Shalom, owners of Basic Line Corp., have been known as the go-to guys when you wanted the back pockets on your premium-denim jeans embroidered with a special squiggle or a big letter. Clients ranged from 7 For All Mankind and True Religion to Current/Elliott and Citizens of Humanity.
Another 60 percent of their business was in embellishments involving such things as novelty stitches and nailhead applications.
But these days the two brothers are involved more in developing real estate and construction. With so much time dedicated to their other investments, they decided to put their machinery and company up for sale, with the hopes of completing a deal by the end of the year.
"We are negotiating with a couple of suitors, one of them an existing customer and the other one new to the industry," said David Shalom, president of the company.
The Shaloms would like to sell all their machinery to one entity that would take over the company, rent the 45,000-square-foot building they own and keep their 85 employees on the payroll.
But if all the machinery is not sold, it will be auctioned off later this year.
The array of machinery inside Basic Line's industrial headquarters is extremely diverse. On one floor are rows and rows of metal machines with 750 embroidery heads to work on the squiggles and loops that distinguish one denim label's pockets from another.
On another floor is an array of smaller machines capable of creating more than 300 novelty embellishments, such as smocking, shirring, pleating, ribbon roses, soutache, chain stitching, crochet stitching, cording, pintucking, laser cutting and heat transfers.
Inside a small room is a library of Basic Line's embroideries shown on sheets upon sheets of denim fabric filled with various back-pocket designs. There are examples of intricate embellishments that are hard to find.
When the Shaloms launched their business, their bread and butter was embroidering millions of T-shirts for licensees of Disney and Warner Bros. characters. The shirts were often sold at stores such as Target and Walmart. In addition, they embroidered hundreds of T-shirts for Las Vegas resorts and hotels. The hallways of their building are lined with framed samples of their artistic work—from pieces that show a logo for "The Lion King" to an image of the Sphinx for the Luxor Las Vegas.
The company's factory was working around the clock with 300 employees. But nearly 10 years ago, much of that embroidered T-shirt business went to China and other overseas factories. Fortunately for the Shalom brothers, they had already embarked on doing denim pocket designs.
It all started in 1999 when designer Jerome Dahan, one of the original founders of 7 For All Mankind, walked through their doors to develop pocket art for his new blue-jeans line that was launching in 2000. The result is the simple but well-known long squiggle that is the denim line's original pocket design.
Dahan went on to start the blue-jeans line Citizens of Humanity.
The embellishment side of the business is heavy on women's contemporary fashions. Basic Line, with the help of technical designers, is able to retool many of its machines to create hard-to-find embellishments that often are no longer done in the United States.
"We grew the business to be one of the largest embroidery and embellishment companies on the West Coast," David Shalom said. "Over the years, business has been great, and we made a lot of money doing it. But it is time to move on to the next phase."