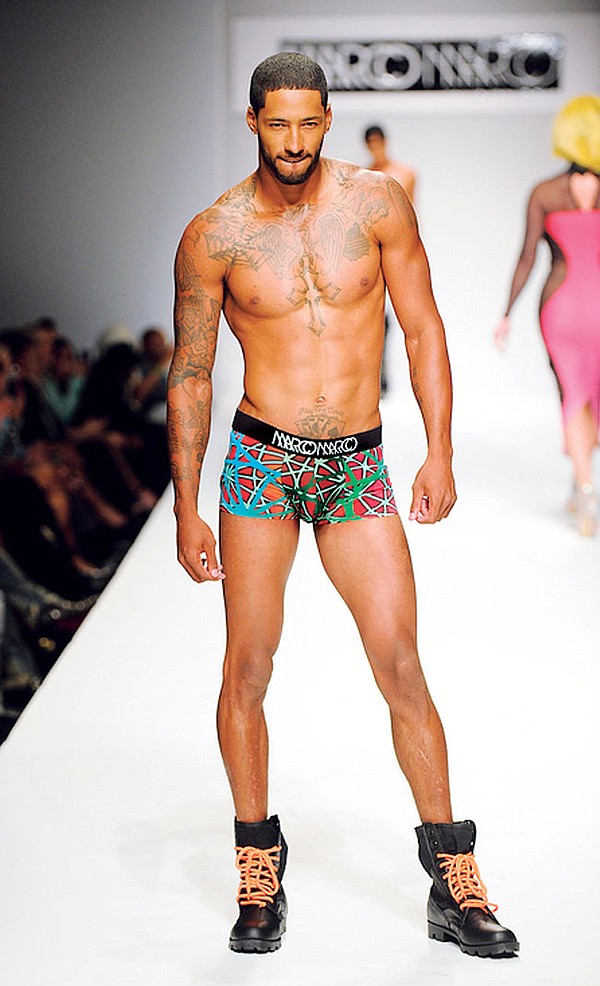 MARCOMARCO
From Runway to Retail
Walk into the three-room Hollywood studio that serves as the MarcoMarco headquarters and you're likely to find the five design assistants frantically stitching the final details to a costume that must be delivered immediately.
On a worktable, there's a bag of plastic doll parts and the remains of dismembered stuffed animals. (Both were used for costumes that have already been completed and shipped out the door.) In the sewing room, two patternmakers and four seamstresses are bringing the creations of costume designer and stylist Marco Morante to life. One wall is covered with framed photos of the designs Morante has created for performers such as Nicki Minaj, Iggy Azalea, Fergie, Kesha, Britney Spears and Katy Perry. (Morante created the famous cupcake bra Perry wore in her "California Gurls" video. He also created the performance costumes for Spears' "Piece of Me" shows at Planet Hollywood in Las Vegas.)
But these days, the photos are partially obscured by stacks of boxes containing the designers' latest project: a capsule collection of underwear.
The collection was first created to outfit the Pit Crew on "RuPaul's Drag Race." Morante didn't consider producing more than a few custom pieces until he showed the line on the runway at Style Fashion Week last year. The show, held at LA Live, featured drag queens in elaborate custom pieces and male dancers wearing neon and black mesh underwear with the name MarcoMarco prominently emblazoned across the waistbands.
"The next thing you know, everyone is asking for underwear that didn't exist," Morante said.
Potential customers from all over the world began calling to ask to buy the underwear.
Morante started producing limited quantities of the underwear for dancers and staff at some of the big nightclubs in Las Vegas, but the concept remained small until the most recent Los Angeles Fashion Week in Octoberwhen Morante hosted his own runway show at Vibiana in downtown Los Angeles. This time, he had sponsorship from "Drag Race" production company World of Wonder, which also filmed the show and posted videos on the WOW YouTube page. (WOW is working on a web series called "The MarcoMarco Show.")
Within a week, the video had racked up more than 100,000 views, and even more requests for the underwear poured in to the MarcoMarco headquarters. Morante was producing small orders in his Hollywood studio, but it was a challenge to juggle the production work with his passion: creating performance costumes for his A-list clients.
"I just like to make one thing," he said.
Building a wholesale business
Morante turned the underwear business over to his business partner, Chris Psaila, and brought in designer Nony Tochterman to help build a capsule collection to sell to consumers and retailers.
A retail website (www.marcomarcounderwear.com) launched in April, and this month Tochterman and Psaila opened up the business to wholesale accounts.
The apparel collection—which Psaila and Tochterman call "Marco Squared," in a nod to Morante's social-media handle—started with the underwear but soon expanded to include leggings, hoodies, hats, necklaces and socks. Wholesale prices range from $8 for a necklace to $13–$15 for underwear and $68 for leggings and hoodies.
"We want to be very careful about the stores that carry the line so we have the right distribution," Tochterman said.

Tochterman plans to move the apparel production from the Hollywood studio to downtown Los Angeles. The next step is to grow the brand.
"We put together a business plan, and we're talking to investors," Tochterman said.
Morante has known Tochterman for years and helped to produce runway shows for Tochterman's Petro Zillia label. ("Marco has not seen any of my shows from the front," Tochterman joked.)
"This is the best way to grow a brand—with a positive atmosphere and friends helping each other," Tochterman said.
Serving a niche market
When Morante sent drag queens and male dancers down the runway during Los Angeles Fashion Week, it could have been seen as a gimmick. But for Morante, the runway show was no gimmick; it was a nod to an underserved niche market of young gay men, drag performers, club kids and dancers.
"This is a community that loves fashion but doesn't get any love from the fashion industry," Morante said.
On social media, Morante's fans hashtag themselves "square boys," Psaila said. They will also imitate the shy designer's signature photo stance by posing with their face covered by their hands or a hat. (Morante created a hat printed with a cartoon face in response to the people who complained that they couldn't see his face in photos.)
"That core base that is supportive of the brand, they connect with the line," Morante said.
The most recent runway show in October featured about 40 looks, including 20 custom drag pieces created for each performer, which included William Belli, Sharon Needles, Yasmine Petty, Detox, the Boulet Brothers and Mathu Andersen.
"They were all different sizes," Morante said. Although there were some styling requirements—for example, some of the girls preferred to highlight certain body parts. But Morante said there were few preconceived ideas for the designs except that "everybody gets to be beautiful."
Morante and his team created the drag looks in 11 days, including printing the fabric.
"We make clothes fast. It's my thing," he said. "When we open a club, there will be 13 new deejays and every deejay has their own dancer and they'll each change four times. For three or four months, we'll be making something like 120 costumes a week."