As of Thursday, October 2, 2014
Photo Gallery
Fashion Industries Guild Gala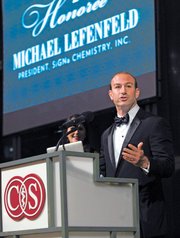 Members of the fashion and textile industry turned out on Sept. 20 at the Dorothy Chandler Pavilion in Los Angeles to raise funds for the Fashion Industries Guild Congenital Heart Laboratory and the Hal Kaltman Fashion Industries Guild Congenital Heart Research Endowment at Cedars-Sinai Medical Center.
Organized by Fashion Industries Guild of Cedars-Sinai and dubbed the Black Tie or Spy Gala, the event kicked off with casino-style gaming played with Fashion Industries Guild–issued play money, followed by dinner, a comedy routine by Judy Tenuta and dancing to music provided by the Citrus College Nightshift band.
The event was dedicated to Charles F. Simmons Jr., MD, the chairman of Cedars-Sinai's department of pediatrics and director of the hospital's neonatology division.
Howard Leeds, who introduced Simmons, called the doctor a part of the apparel-industry family. In accepting the honor, Simmons said, "This organization means a tremendous amount to me and to the children in Southern California."
Chemistry and technology entrepreneur Michael Lefenfeld was the gala's honoree. Lefenfeld is the founder and chief technology officer of SiGNa Chemistry, a company that employs a chemical process Lefenfeld discovered for a variety of industries, including oil recovery, clean energy and other chemical manufacturing processes.
"I think I'm the first science nerd to be up here," Lefenfeld said, adding that "this charity has been fantastic" and pledging to continue raising funds for this year's projects.