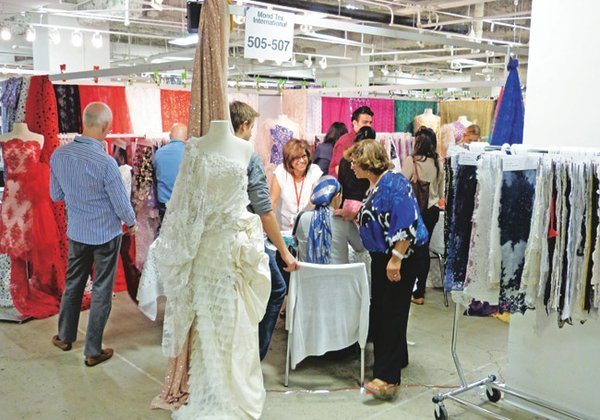 LA TEXTILE SHOW
Drawing a Mix of Established Brands, New Designers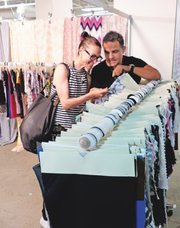 After a slow start, traffic steadily picked up at the Sept. 29–Oct. 1 run of the Los Angeles International Textile Show at the California Market Center in Los Angeles, where exhibitors said they met with both well-known brands as well as new designers.
Designers and representatives from BCBG, Bebe, Current Elliot, Juicy Couture, Tommy Bahama, Karen Kane, Vince, Tianello, Elisabetta Rogiani, Chip Foster, Calvin Rucker, Peter Cohen, B Green, Bruno Duluc and Trend Chasers were spotted shopping the show. Other companies who turned out included Just Fab, Gap Inc., Andrew Christian, New Era Cap, Nasty Gal, 7 For All Mankind, Twelfth Street by Cynthia Vincent, Joie, Citizens of Humanity, Ella Moss, Perry Ellis, JCPenney, Pacific Sunwear, Disneyland Resort, Skechers, Modcloth, Black Halo and American Apparel.
Phil Fox, owner of Los Angeles–based Fox Fabrics, returned to the show after several years to show his collections of high-end fabrics from Italy, Japan and China.
"It's been quite good," Fox said on the last day of the show. "Yesterday at 2 p.m., it was standing room only."
Fox estimated that he saw more than 90 companies at the show, including a mix of key accounts and potential new ones.
"Trade shows never hurt," he said.
Studio Bert Forma was another company showing again after several seasons away. Kevin Maldonado, co-owner of the Los Angeles–based company, said the show was a good opportunity to showcase the company's stock Tencel denim yardage.
"The biggest thing for me is [promoting the LA stock] and meeting with people I haven't seen in a long time," Maldonado said, just as designer Peter Cohen walked into the showroom.
Warren Zaretsky, vice president of sales with Los Angeles mill Mansfield Textile, was another returning exhibitor after several years away.
The first day was slow, Zaretsky said, but after sending out a few emails to several customers, the second day of the show was "fabulous."
Mansfield's business has grown 20 percent, Zaretsky said. The company recently added several jacquard machines and has been doing well with low-gauge sweater knits. "They're on fire," he said. "It's not just for sweater lines. They're being used for casualwear and coverups."
The athleticwear trend is also helping drive business for Mansfield's activewear fabrics made from Tencel, Supima and bamboo.
Not as many first-timers
Many exhibitors said the show attracted fewer start-up companies than in past years.
"The last show we saw a lot of new companies. This show, it's a lot of current accounts," said Gina Valdez, who represents U.K.-based Liberty Art Fabrics, which was showing in the European Collections Pavilion.
"It was a bit slow on Monday, but that's to be expected," she said, adding, "It was rather busy on Tuesday."
Valdez said designers were looking for newness but were still very price-conscious.
"I feel everyone is being very conservative again," she said.
Returning exhibitor Josi Severson also noted a change in the turnout at the show.
"You're used to talking to new companies starting out, and it feels like I'm not even seeing many of those," she said on the second day of the show. "At the last show I had so many more contacts by now. But today is busier than yesterday. There's been a decent flow of people."
David Sasso,vice president of sales for Buhler Quality Yarns, also noted that apparel makers have become more cautious.
"Everybody is controlling inventory," he said. "There are no projections. They want to know what's the price."
Still, Sasso said, the show provided important insight into his customers' business.
"The nice thing about the show is getting to see the regulars, and it's an opportunity to see our customers at one time," he said. "You never know what's going to happen just by having a conversation. You learn what's new, what they're looking for, what the business conditions are."
Andy Long,vice president of sales and marketing for Tuscarora Yarns, said after a slower-than-expected start on Monday that he and his team contacted some key clients and invited them to the show.
"That's made it worthwhile," he said on the second day of the show, adding that several booked appointments for the last day, as well.
"If I can come to LA and see [several customers] in one place, that's great," he said.
Long said trends are "all over the map," but added, "The one common current we see is texture, whether that's physical or visual or what we call color texture."
Another new development on the horizon is coarser-weight fabrics after years of finer-weight fabrications.
"They're asking, 'Can you make it in 16-, 12-, 14-[gauge],' which we haven't had in a while," he said, adding that Tuscarora has added more spinning frames in the last year to keep up with demand.
Buhler, Tuscarora, Mansfield and Studio Bert Forma were part of a group of 23 companies showing in the Lenzing Innovation Pavilion, organized by Lenzing, the maker of Tencel and Lenzing Modal.
Return of the Korean Pavilion
After a season away, Global Korea Textile Week returned to the CMC's Fashion Theater. Organized by KOTRA (the Korean Trade-Investment Promotion Agency), the show featured nearly 20 Korean textile resources.
For D. H. Kong, president of A Jin Corp. in Kyeong-Do, Korea, this was the first time showing at the Los Angeles textile show although his company already works with several West Coast apparel makers.
Kong said he met several potential customers for his company's textiles, which include lace, jacquards and prints in cotton and polyester.
Steve Barraza, owner and chief executive officer of Los Angeles–based Tianello, was browsing the lines in the Korean pavilion on the hunt for knits and silks. Barraza said his company buys a lot of fabric from Korean mills but added that he was at the LA textile show on the hunt for more Los Angeles resources, as well.
Growing interest in USA
Both Buhler's Sasso and Tuscarora's Long noted a growing interest from large companies in producing in the U.S. or in the Western Hemisphere.
"We're getting hints of inside information about tremendous programs coming to this hemisphere," Sasso said. "What's driving that? The answer is speed—speed within reason. And they're willing to pay more—but not that much more—for it. When you start calculating it out, the real cost between East and West is not that far apart."