RETAIL
Forecast Bright for Holiday, But Analysts and Consumers Uneasy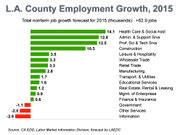 There has been a recent string of good economic headlines, and the National Retail Federation's winter/holiday sales forecast has been the latest one.
Economists for the NRF, the largest retail trade group in America, forecast good business for the crucial holiday season. NRF released a forecast on Oct. 7 that predicts sales in November and December will increase 4.1 percent to $616.9 billion. It's an increase over the 2013 sales performance, in which NRF reported a 3.8 percent increase to $601.8 billion in year-over-year sales.
NRF President Matthew Shay said during an Oct. 7 conference call that the optimistic forecast was built on a strong foundation.
The national unemployment rate fell from 6.1 percent to 5. 9 percent in September. The U.S. gross domestic product increased 4.6 percent during the second quarter, according to the Bureau of Economic Analysis.
"We're certainly encouraged. Generally, the overall economic conditions are improving," Shay said. "There is potential pent-up demand. We have a good foundation for a jumping-off point."
The forecast is more robust also because of what is not happening, Jack Kleinhenz, NRF's chief economist, said. There is no looming shutdown of the federal government or debt-ceiling debate, which made investors and consumers anxious during the 2013 holiday season. The weather forecasts are not predicting extreme weather, which kept many consumers from shopping at the mall, Kleinhenz said.
But the recovery from The Great Recession of 2009 has been anything but solid, and many analysts will admit to being anxious about the economy. "The economy doesn't feel that strong," said Liz Pierce, an analyst for financial-services firm Brean Capital LLC.
Wage growth has remained stagnant since the Great Recession. Annual wage increases measured by the Bureau of Labor Statistics have not kept pace with inflation, many complained.
The Consumer Confidence Index, a respected pulse reading of the public's outlook on the economy, found that confidence in the economy dropped in September after four consecutive months of climbing.
Pierce was particularly wary about how retailers will find profits in another holiday season that is forecast to be defined by discounts and generous promotions. Since the recession, most U.S. consumer behavior has been defined by "event" shopping, or waiting for big sales on holiday weekends such as Black Friday and Memorial Day weekend. The behavior is similar to a game of "retail chicken," Pierce said. "I'm going to wait you out because I know that a sale is coming," Pierce said, describing consumers' behavior.
However, retailers seemed to express a more bullish outlook on the economy. On Sept. 29, Macy's Inc. said it plans to hire 86,000 seasonal workers for its Macy's and Bloomingdale's stores, call centers, distribution centers and online fulfillment centers for its 2014 holiday season compared with the 83,000 hired last year.
Retail jobs in the five counties of Southern California make up 10 percent of the jobs in the region, according to a recently released 2015 economic forecast from the Los Angeles County Economic Development Corp. 2015 will be a solid year for retail jobs, which are expected to grow by 3,300 this year.
For apparel manufacturing, there was a decline in employment. The report noted that for the first seven months of 2014, apparel-manufacturing employment in Los Angeles County averaged 43,900 workers. During the same period in the previous year, the sector employed 1,900 more workers. The change represents a decline of 5.1 percent in the sector's employment. However, things have been relatively good for apparel wholesaling. The LAEDC report noted that apparel wholesaling added 470 jobs over the past year and employed 24,300 workers.
In a general forecast on Southern California, the LAEDC noted that 2014 has been good for the region and 2015 ought to be a similar story. "Employment gains in the major industries of Southern California in 2014 were stronger and more broad-based than the region has experienced since the end of the recession, a trend that should prevail again in 2015," the report noted.
Another holiday forecast featured a much more downbeat outlook. On Oct. 7, global management firms PwC US and Strategy& (formerly Booz & Co.) surveyed more than 2,200 shoppers nationwide and predicted that the 2014 holiday shopping season will be characterized by "cautious spending," said Steven Barr, PwC's U.S. retail and consumer practice leader.
"The upcoming holiday shopping season will look very similar to 2013 as shoppers remain cautious on the economy and are concerned about disposable income, the rising cost of living and insufficient salary, leading surveyed participants to project average household spending of $684, down from $735 in 2013," Barr said.