RETAIL
September Sales Show Strength and Weakness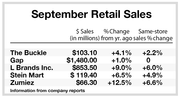 September looked good for retail sales, according to the International Council of Shopping Centers.
A tally of retailers' comparable sales maintained by the New York–headquartered trade group for malls saw U.S. retail sales go up 5 percent during September, according to Jesse Tron, an ICSC spokesman.
"The overall strength in economic conditions has been driving stronger consumer demand of late, a good sign as we progress into the holiday shopping season," Tron said.
However, September's gains did not have the strongest foundations, according to Ken Perkins of Retail Metrics a Boston-area market-research firm. Retail traffic and spending seemed to flag after the Back-to-School season wrapped up in the first part of the month, Perkins wrote in an Oct. 9 research note. He blamed the drop-off on consumers being cautious in terms of spending.
"The consumer has been cautious in terms of spending all year, despite meaningful job gains throughout 2014, and looks to be more 'event'-driven than ever in their shopping," he said. September traffic and consumer demand also seemed "choppy and lackluster," according to a Oct. 7 research note from Adrienne Yih- Tennant, a respected analyst from Janney Capital.
September was a good month for The Buckle of Kearney, Neb. It posted a 2.2 percent increase in same-store sales, the latest in a four-month string of comp-store gains. Zumiez, a teen/boardsports chain, posted a 6.6 percent increase. Gap Inc. reported flat same-store sales in September, which was a bit of recovery from August, when it posted a 2 percent decline in same-store sales.
Levi Strauss & Co. also announced results for its third quarter of its 2014 fiscal year recently. The high-profile San Francisco denim label posted a 1 percent increase in its net revenue, which was $1.1 billion in the quarter that ended Aug. 24. However, there was a decline in net income. It declined by 11 percent, said Chip Bergh, president and chief executive officer of Levi Strauss & Co.
"Despite continued external challenges, including soft retail traffic and a highly promotional environment, we grew revenue in the third quarter by focusing on the controllable aspects of the business. The decline in net income essentially reflects the investments we're making to improve productivity," Bergh said in a statement.