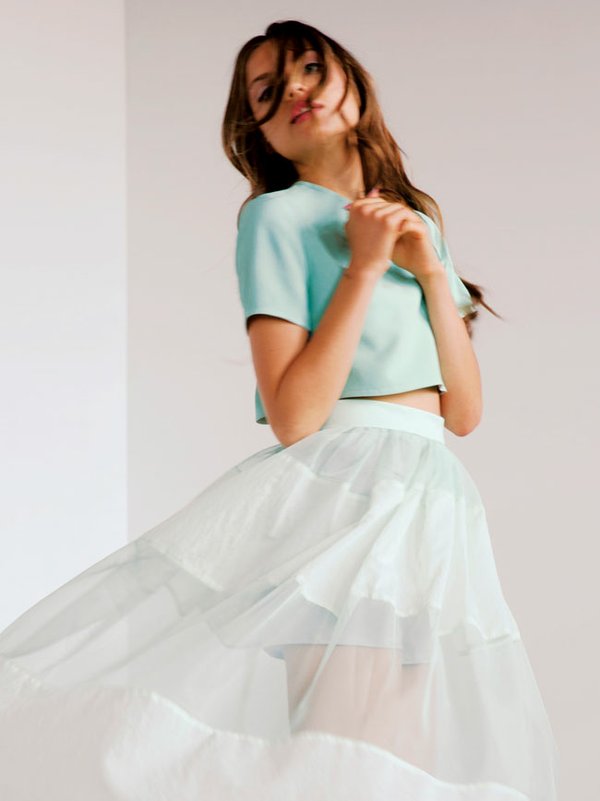 VIVIAN CHAN
Ethereal Designs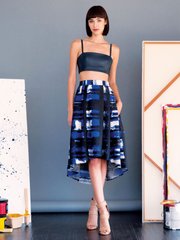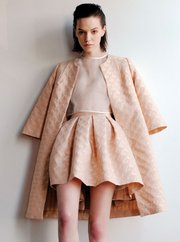 Vivian Chan dresses women in feminine clothing adhering to structure and clean lines. Her collection combines splashes of color with subtle pastel hues in billowy skorts, short to long full skirts and deep V-shift dresses.
There are cutout maxi dresses, pants with sheer side panels, adjustable-strap slip dresses and rompers with hidden pockets. A standout piece is the crisp white button-down shirtdress with side pockets and sheer cuffs, and another fun piece is the organza skirt with a floral watercolor lining.
"People have come to recognize the brand for our 'Rosie Skort.'" Chan said. The style is described on the company's website as one that "combines the best of two worlds—shorts and full skirts." High-waisted shorts are topped with a diaphanous silk organza skirt and a vegan-leather waistband.
Since launching the Vivian Chan line last year, Chan has dedicated each collection to a type of woman. For Spring, the inspiration was ballerinas, Summer was tattoo artists, and the most recent Fall collection celebrates art instructors.
All of the fabrics are chosen because of texture, including the cottons and silks, and all of the garments are manufactured locally.
Retail pricing varies depending on fabrication, detail and embellishment, from $218 for a maxi dress to $228 for a leather bralette to $238 for a flared skirt.
The collection is currently carried by Alchemy Works and Mohawk General Store, both based in Los Angeles, but Chan debuts each collection first on her e-commerce website (vivianchan.com) in order to gauge consumer interest. "Our main focus is direct to consumer so that we can be in control of the experience we provide for our customers," she said.
Chan's direct-to-consumer model is one she learned early at the clothing store her mother owned downstairs from the family's home in Taiwan.
"The one thing I looked forward to the most each day was coming home from school so that I could help customers pick out clothes," Chan said.
The designer went on to study fashion in California and in London, picking up key internships in Los Angeles, New York and London with brands such as Bebe Inc., Bodyamr, Cynthia Steffe, Lorick and Rodarte. She worked as senior designer at Lucy Paris Inc. for one year before launching her own label.
For sales information about the line, email info@vivianchan.com.