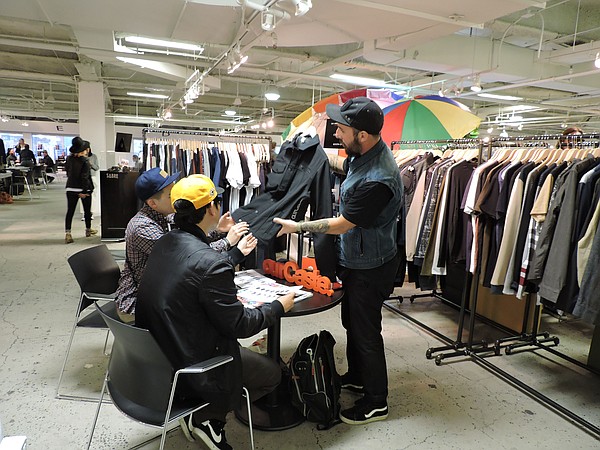 LA MEN'S MARKET
Expanding in New Open-Booth Venue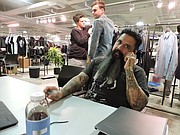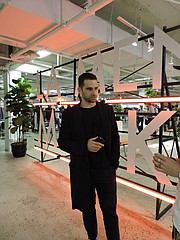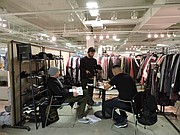 For its fourth run, the LA Men's Market trade show went for a complete makeover.
In its previous three outings, it was a showroom event held in the Area 4 showroom wing of the California Market Center in downtown Los Angeles. The show's new look was unveiled for its April 7–8 run. The men's streetwear, action-sports, contemporary and fashion-focused show looked more like a convention-center trade show than a showroom-centered event.
Held at the B wing of the CMC's penthouse, which offered commanding views of downtown Los Angeles' skyline, the show featured 150 brands in 10-by-10 booths equipped with metal rolling racks, simple tables, shelving and chairs. The entrance to the show was dominated by a big metal and neon sign spelling out the name of the show.
DJs played hip-hop, soul and rock music. Free breakfasts were provided by downtown LA hipster restaurant Egg Slut. Ten-dollar barbecue lunches were sold by Bludso's, another eatery with a youth cachet. Om Nom Organics, a Fashion District organic grocery, set up a pop-up shop for organic snacks and sold Juice Served Here cold-pressed drinks.
Store buyers from Southern California–headquartered boutiques and specialty chains visited the show. Making appearances were buyers from American Rag, Pacific Sunwear, Revolve, Moose Limited, the In Heroes We Trust boutique in Venice and the Seed People's Market in Costa Mesa, Calif.
Also reportedly dropping by were buyers from high-profile boutiques from outside of California including Zumiez Inc., based in Washington state; Amazon.com; Need Supply Co. of Richmond, Va.; JackThreads, headquartered in New York; Boathouse, a Canadian boutique chain; Black Market of Dallas; Stockist of Salt Lake City; and some Japanese retailers.
"I was surprised by the quality of the out-of-town buyers," said Adam Ahdoot of the Flagship showroom in Los Angeles' Chinatown. He has exhibited his showroom's brands K-Way, MRKT and Orchill at every LAMM.
Past LAMM shows were marred by complaints that some vendors were located in prime spots with a lot of foot traffic while others were located in quiet corners far from elevators. Kellen Roland, founder of LAMM, said he wanted a change and to heighten the profile of the show.
"We wanted a big, open-space format, so every brand could show on equal footing," he said. "It would have been impossible to replicate on the fourth floor." For this recent show, Roland said that he increased budgets and worked in concert with the CMC to fly out buyers from leading boutiques.
Roland said that he invested revenue from past LAMM shows to help produce the convention center–style look of the recent show. He said that he did not have a partner and was not backed by any investors. Roland also is president of the NTWRK Agency showroom in the CMC. While NTWRK brands such as Herschel Supply Co. exhibited at LAMM, the businesses were kept separate, he said. He also confirmed that a 10-by-10 booth at LAMM cost $1,000. (Booth space at higher-profile convention-center trade shows can cost $5,000 and up.)
Accessories and footwear had a significant presence at LAMM. Roland estimated that 30 percent of the vendors represented accessories, such as eyewear by Electric and personal electronics such as Marshall, 20 percent was footwear brands such as Broken Homme, a made-in-California fashion footwear and boot maker, and fashion sneakers and footwear from Diadora and Levi's.
High-profile clothing brands exhibiting at LAMM included Obey, Etnies and Stance. Other brands showing included Globe, Publish, Wolf & Man, Wellen, Staple, Rook, Matiere, Original Paperbacks, Huf, Chuck and I Love Ugly.
LAMM was produced to provide an alternative by displaying collections from smaller seasons, such as Summer and Holiday, instead of the major seasons of Fall and Spring, Roland said.
Drew Delgado of Townes & Co. represented the Globe brand at LAMM and displayed Holiday and Fall seasons, and he mostly showed looks for Fall with a delivery date of July 1. He also mentioned that he picked up new accounts.
Gil Gomez, the owner of the Black Circle Agency, said that some orders were written for his clients, Wolf & Man, Wolf Hill and Exarthur. However, much of the action at the show was composed of buyers scouting brands and promising to confirm deals in the near future.
Eric Flores, a sales manager for the Denver-headquartered Akomplice brand, estimated that 25 percent of his business at the show was for pre-ordered goods and the rest was for Immediate goods.
Roland confirmed that LAMM will be produced in October at the CMC's penthouse, but exact dates were not confirmed.