As of Thursday, August 6, 2015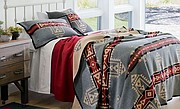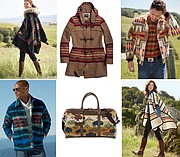 Portland, Ore.–based Pendleton Woolen Mills is adding new Italian and Swiss jacquard looms in its original mill in Pendleton, Ore.
The company is installing high-speed, state-of-the art looms from Itema and Staubli.
"These looms will improve quality, enhance design capability, add capacity and increase efficiency to produce the 'warranted to be' quality of Pendleton products and fabrics that the brand is famous for," said Charlie Bishop, executive vice-president of manufacturing, in a company statement "We are excited to partner with these two world-class companies to bring the world's most advanced weaving technology to Pendleton, Oregon."
Jacquard looms are capable of weaving complex patterns, including brocades, damask, matelasse, and other three-dimensional designs. When Pendleton Woolen Mills first opened in 1909, jacquard blankets were the first items they made. At the time, the jacquard looms required such a tedious manual setup that the company only designed a new blanket once a year. According to the company, modern weaving technology has changed the process "from months to minutes." Pendleton's original jacquard looms were used to create blankets for American Indians living in Eastern Oregon and featured Native American symbols in the blanket designs. Many of those designs are incorporated in the company's current products.
A family-owned business, Pendleton was founded in 1863. The company opened its Pendleton, Ore. mill in 1909 and acquired a mill in Washougal, Wash., in 1912. Both are still in operation today.