As of Thursday, August 13, 2015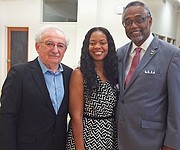 Apparel-industry software program AIMS360 is taught to students at the Fashion Institute of Design & Merchandising, Los Angeles Trade-Technical College, Cal State Poly Pomona, and Saddleback and Fullerton colleges in Orange County, but Henry Cherner, AIMS360's managing partner, is considering expanding the reach of AIMS360's education program.
Beginning Aug. 10, Cherner and other educators and business executives took part in a weeklong leadership program for youths. As the program wrapped up, Cherner said he thinks AIMS360 should explore increasing its outreach to help youth looking to get a foothold in the fashion industry.
"We would love to see the younger kids get motivated," Cherner said. "They could get internships before they start college." Knowledge of data entry and enterprise resource planning software could help with that first step into the business, he said.
The idea was a follow-up to the first Youth Innovative Entrepreneurial Leadership Development program. The youth leadership program was produced in part with the office of Curren D. Price Jr., the councilmember for the Ninth District in the city of Los Angeles. The program took students from Price's district, which includes parts of South Los Angeles, on trips to workplaces and presentations by executives in the fields of entertainment, construction, the culinary arts and technology. Cherner represented apparel and fashion in this event.
Cherner said he thinks that fashion businesses would benefit from interns who could perform advanced tasks such as data entry. Cherner said he discussed the idea with Price and hoped to make teaching AIMS360 to high school youth part of a public/private program.