As of Thursday, August 13, 2015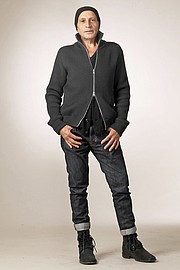 Denim designer Jimmy Taverniti has joined Siwy as creative director. The first collection under Taverniti's direction will be Spring/Summer 2016.
"We are excited to have a man who really can create something that's never existed," said Alain LaFourcade, chief operating officer of Siwy, in a company statement. "Taverniti is a true visionary—and not just with denim. He is well versed in all fabric textures/techniques and is a master of his craft. He is here to invest in Siwy's future."
Taverniti is known for his Los Angeles–based premium-denim line, Taverniti So, which he launched in 2004.
"He has solidified a strong foundation that resonates with the Siwy customer," LaFourcade said.
The French-born, Southern California–based Taverniti built his own brand with a feminine, vintage-chic aesthetic that extends beyond denim to include cotton, viscose, silk and leather. At Taverniti So, the designer pioneered wash and finishing effects using indigo, natural pigments, discoloration and organic dye.
"This is a great opportunity for me to work with Siwy and their team of denim experts.
Their respect for their workers, using environmentally friendly washes and the belief in luxury craft are completely in sync with mine," Taverniti said. "I'm looking forward to elevating Siwy in a modern and ethical way."
Los Angeles–based Siwy launched in 2005 and features vintage-inspired, fashion-forward denim designs with an emphasis on fit, finishing and details that "infus[e] the LA–dominated denim category with a heavy dose of New York attitude," the company said.