As of Thursday, August 27, 2015
Photo Gallery
FCI The Fashion School Student Fashion Show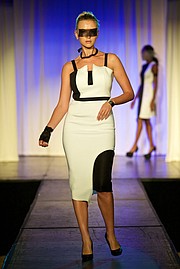 August 13 | FCI The Fashion School Student Fashion Show | Celebrity Centre International | Hollywood | Photography by Volker Corell
Known for its fast-track design program, FCI The Fashion School (previously called Fashion Careers International) showcased the Fall '15 collections of 10 students on Aug. 13 at the Celebrity Centre International in Hollywood.
Students were asked to define their "It Girl" and the inspiration for their collections.
Kentaro Kameyama described his "It Girl" using a quote from "On the Road" by Jack Kerouac about "the mad ones, the ones who are mad to live" who "burn, burn, burn like fabulous yellow Roman candles." His collection included pale net pieces and pained knits that cocooned the body as well as structured styles with knife-sharp pleats.
Alyssa Kay drew inspiration from architecture and abstract art for her black-and-white collection, which paired tailored neoprene with origami-like mesh.
Kalyn Lind added streetwear details, such as raglan sleeves, to eveningwear and paired diaphanous sheer skirts with structured silhouettes.
Sofia Zamyatin's festival-inspired collection featured rich shades of burgundy, brown and indigo with soft textures and leather accessories.
Natalia Sorrentino's collection artfully mixed fabrics, textures and patterns in traditional silhouettes.
Christelle Berdaulon's feminine collection drew inspiration from Paris and Versailles and featured floral prints, sheer fabrics and ribbon trim.
Chelsea Van Arsdol took cues from the 1970s for her collection, featuring bell sleeves, mod patterns and a bohemian aesthetic.
Victoria Volskaya's romantic collection, inspired by fairy tales and nymphs, featured diaphanous fabrics in candy-colored pastels.
Jane Han drew inspiration from the Garden of Eden and the work of Elie Saab for her collection, which mixed lace, brocade and pinstriped fabric.
Ani Hovsepyan's cheerful collection featured high-low tops layered over skirts, leather-like looks embellished with zippers and feathers, and a two-piece ensemble trimmed in red fringe.