As of Thursday, August 20, 2015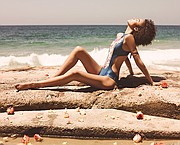 O'Neill—the California brand known for its casual clothing, surfboards, swimsuits and wet suits—has tapped designer Cynthia Vincent for its second contemporary collaboration.
The sophisticated looks are incorporated not only into swimsuits but also cover-ups, sweater ponchos, rompers and dresses that go from the beach to the street and wet suits with feminine prints that could only come from Vincent, known for her 12th Street by Cynthia Vincent label.
"We felt like her aesthetic aligns with our look and feel. It's a natural partnership, and it will allow us to reach out to a consumer we don't often have access to. It's also for a younger girl," said Rachael Hill, design director for O'Neill Women's.
Vincent contributed her artwork and embroidery designs, and O'Neill provided the rest. "It is the first time we have ever collaborated on the wet suit side of things," Hill said. "We took feminine prints of Cynthia's and put them on wet suits. We have neoprene leggings, spring suits [wet suits made out of lighter material], sleeveless suits and full suits."
The collection includes a black-and-white maxi dress that buttons up. There is a flowing gauze dress in a watercolor floral and also in an ethnic tribal pattern.
A sweater poncho has macramé fringe at the hem. The idea for the fringe came from a pattern inspired by a vintage rug that Vincent owns.
The collection will arrive in stores next April for the Summer 2016 season. Retail price points will range from $140 to $200 for wet suits, $46 to $110 for neoprene swim pieces and $60 to $100 for sportswear.
O'Neill is working with Vincent to develop dresses and sweaters for the holiday season. "We see the impact of these collections as really positive," Hill said.
This is O'Neill's second contemporary collaboration. The first was with Anna Sui, whose collection rolled out this summer and is still in stores.