As of Thursday, August 27, 2015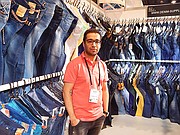 More than 40 countries exhibited at the Sourcing at MAGIC show, growing from 2,050 booths last year to 2,700 booths this year.
The show also gained about 65,000 square feet of space, or a 30 percent increase over last year's exhibition territory, when it moved from the South Hall of the Las Vegas Convention Center to the North Hall.
"Sourcing was huge this year," said Bob Berg, senior sales manager, international, for the show. "I think a lot of countries want to focus on the U.S. market because there are economic difficulties happening in Europe and Asia and in Russia."
Buyers from 84 countries showed up, many of them looking for private-label opportunities, Berg said. About 65 percent to 70 percent of the exhibitors were from China with a large contingent from India taking over 150 booths.
One of those from India was Vikas Agarwal, chief executive of Aman Exports International, which has four factories employing around 2,500 workers in Jaipur. For several years, he exhibited at the sourcing show and then in 2011 took a four-year break. But he was back this year because the United States, he said, is one of the few countries where the economy is relatively healthy.
Right now, Agarwal's main market is in Europe, where he does a lot of production for Zara and Mango in Spain and Zeeman in Holland. "This show is good for making contacts," he said, even though he thought traffic was a bit slow.
During the four-day event, running Aug. 16–19, a group of buyers visited from Guess, later followed by a knot of importers from New York.
This was David Conde's first visit to the sourcing show. His 20-year-old company, Innermotion, which manufactures denim tops and bottoms in Mérida, Mexico, already does about 80 percent of its business in the United States with companies such as Ralph Lauren and LL Bean, but he would like to do more. "We are always looking for opportunities to expand our label," he said.
He felt the show was a little slow and would review how many business contacts he made before deciding whether to return for the next show in February.
Kaveesh Manwani, managing director of Denim Supplier in Guangzhou, China, has exhibited at the event five or six times and believes it is a great opportunity to talk to existing clients and discover new business. "It's good to be here for the exposure," he said.
About 50 percent of his business is done in Latin America while only 30 percent is done in the United States. He would like to find more business in the U.S. or Europe.
Even though the bulk of the exhibitors at the show were from foreign countries, it was not just about overseas factories. There was a hefty presence by U.S. clothing and textile factories that still produce goods domestically, such as Buhler Quality Yarns, J.P. Sportswear and L.A. Dye and Print.
Bob Lindenbaum, a sales rep for private-label manufacturer California Rain Co. Inc. in Los Angeles, said his company has been participating in the sourcing show for 18 years.
He saw buyers from throughout the United States who are still interested in making clothes domestically. Normally, he doesn't write any orders at the show. He does follow-up appointments later to talk about business. "In sourcing," he said, "there is no instant gratification."