IMPORT/EXPORT
Newsmakers 2015: Mammoth Free-Trade Agreement Talks Concluded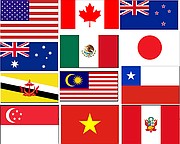 After seven years of negotiations, trade representatives from 12 countries hammered out a final agreement this year on the Trans-Pacific Partnership, which could change free-trade as we know it between the United States and Asia.
The Trans-Pacific Partnership—the largest trade agreement ever negotiated—could lower tariffs on more than 18,000 items ranging from clothing to cars. It would also install uniform intellectual-property stipulations and enforce uniform labor and environmental laws in the participating countries.
The countries in the trade pact are Australia, Brunei, Canada, Chile, Japan, Malaysia, Mexico, New Zealand, Peru, Singapore, Vietnam and the United States. It affects 40 percent of the world's economy.
For the apparel and textile industry, the free-trade accord, known as the TPP, has certain limitations, which are similar to those written in other agreements between the United States and dozens of other countries.
It has a yarn-forward provision, which means that everything from the yarn going forward must be produced in the trade-pact countries to receive duty-free status. So Chinese fabric, or fabric from outside the free-trade region, would not be allowed to be used for duty-free qualification unless it is on a short-supply list.
Already, U.S. apparel manufacturers are anticipating being able to use Vietnamese-made textiles as that country ramps up its textile production with heavy investment from Chinese and Korean businesses. And many U.S. clothing manufacturers would like to export to the growing Vietnamese and Japanese market.
TPP eliminates import taxes on every Made-in-America manufactured product that the United States exports to TPP countries. Every year, an estimated $48 million in duties are levied on U.S. exports of apparel and textiles in TPP member countries.
The accord must be signed and approved by President Obama and Congress. All the other 11 member countries also must get approval from their legislative bodies for the free-trade agreement to go into effect.