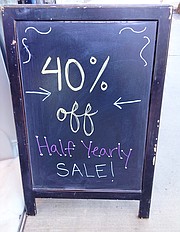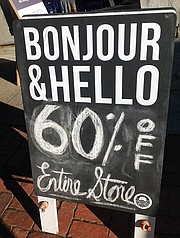 The reports for the 2016 holiday retail season are in, and the news is mixed.
According to a statement released on Dec. 29 by MasterCard Spending Pulse, the market-research group that tracks spending in the MasterCard payments network, the season ended well for apparel retailers.
Apparel saw high single-digit growth during the season, which began on Black Friday, the day after Thanksgiving, and lasted until Christmas Eve, according to MasterCard.
Sales for women's apparel rose by double digits. Excluding auto and gas, retail sales grew 7.9 percent between Black Friday and Christmas Eve in a year-over-year comparison to last year.
The MasterCard Spending Pulse report was one of thefirst measures of the crucial sales season to be released. Sarah Quinlan, senior vice president, market insights, for MasterCard Advisors, said business was good, despite anxiety over retail sales' performance.
"After a slow start, I'm very happy to see that the holiday season was hot for retailers," Quinlan said. "We saw some very promising trends."
Forecasts for the 2015 holiday retail season were influenced by anxiety over what some believe to be the continuing anemic recovery from the Great Recession. Media reports said that there was a shift in the way U.S. consumers shop during the holiday retail season. Retail traffic at shopping malls declined while online retail business increased.
During the Black Friday kickoff to the holiday season, there was a 5.1 percent decline in store traffic, according to RetailNext Inc., a San Jose, Calif.–based shopper-analytics group.
Shelly Kohan, RetailNext's vice president of retail consulting, said that more people shopped online during the first weekend of the holiday season. "The weekend continued to demonstrate the emergence and importance of mobile shopping, and shoppers increasingly used digital devices to shop brands, research products, compare pricing and make purchases," she said in a Dec. 1 statement.
E-commerce sales skyrocketed at The Dreslyn, a 2-year-old women's contemporary online retailer headquartered in downtown Los Angeles. The retailer beat forecasts for its Black Friday weekend. Its sales increased 48 percent during the Black Friday season compared with last year, said Daniel Corcia, a cofounder and chief finance officer of the retailer, which does business at www.thedreslyn.com.
"Typically after Cyber Monday [the Monday after Black Friday], we see a downward spiral. But sales have not stopped. I think people are getting more comfortable with e-commerce and the ease of shopping online," he said.
Holiday e-commerce was dominated by Amazon.com. The Seattle-based company reported more than 3 million people joined its Amazon Prime service during the third week of December. Its stock price increased more than 2.88 percent during the week after Christmas based on its performance during the holiday retail season. The e-commerce giant has been promoting its fashion offerings in recent months. To highlight its holiday performance, Amazon got a little dramatic. In a Dec. 28 statement, the company said it sold enough jeans to cover the driving distance between San Francisco and Los Angeles. It also claimed that it sold so many women's boots that if they were stacked on top of each other they could reach the orbit of the International Space Station.
All this rosy news comes on the heels of cloudy forecasts. The National Retail Federation predicted that holiday retail sales would increase 3.7 percent compared with the 2014 season, when sales increased 4.1 percent. It will announce results for holiday season sales on Jan. 15.
On Christmas Eve, Retail Metrics, a Boston-area market-research group, forecast that sales would increase 0.4 percent for the fourth quarter of the 2015 fiscal year for the retailers in its index.
And in the days following the holiday shopping season, not every industry observer was upbeat across the board. Howard Davidowitz, founder of retail consultancy Davidowitz & Associates, said that the season's business was tough for department stores and good for off-price retailers. "We're in an economy that is crawling along," he said. "We have too many stores selling the same things. The only difference is price. If you are trying to appeal to the middle class, you need to find price points that appeal to them. That's why Macy's entered the off-price business." (In May, Macy's Inc. announced that it would open off-price stores Macy's Backstage.)
However, there is still a lot of room for luxe and boutique-style shopping, said Darrel Adams, founder of the Kin boutiques in West Hollywood, Calif., and in Los Angeles' Bel-Air neighborhood. He'll be opening another Kin boutique in Huntington Beach's Pacific City retail center in February.
Adams estimated that Kin's 2015 sales increased over last year. While he maintains an e-commerce shop (www.kinlosangeles.com), his physical sales dominate. "We cater to someone who wants to go to Kin," he said. His customers prefer the experience of a boutique and the unique environments they create. "You don't get the experience of merchandising when shopping online."
Don Zuidema, a cofounder of West Hollywood boutique LASC, also forecast that sales at his physical stores were stronger than at his e-commerce site (www.shoplasc.com). He predicted sales increased by double digits over last year. Still, Zuidema said, the business of running a store continues to be tough work.
"Bricks-and-mortar is in a challenging environment," he said. "It's also an opportunity. We have built environments where people can be entertained and be social."
Traffic patterns
At South Coast Plaza, the high-profile retail center in Costa Mesa, Calif., the busiest days for holiday retail traffic were Black Friday and the day after Christmas, said Debra Gunn Downing, executive director for marketing at South Coast Plaza. Retail traffic increased compared with last year. Consumers made a special trip to South Coast Plaza because of the Santa's Village installation, Gunn Downing said.
At the Citadel Outlets retail center, south of downtown Los Angeles, retail traffic was strong throughout December, said Traci Markel, the retail center's marketing director. But sales started cresting in mid-December. To draw more shoppers, the shopping center extended its hours and also scheduled entertainment, including what was billed as the world's tallest Christmas tree.
"People want to shop online, but they also want to have the pleasant experience of shopping with family and friends where they take pictures and watch entertainers," Markel said.
Citadel management also works with stores to guard against the stores running out of inventory during the busy holiday season. Upon request, the shopping center would contact the retailer's inventory headquarters to ask for more inventory. They also wanted to help to ensure the inventory could be replenished in a snap. In 2014, the Citadel built a two-story logistics center in a delivery court on the retail center's site. "There are plans for more of them," Markel said.