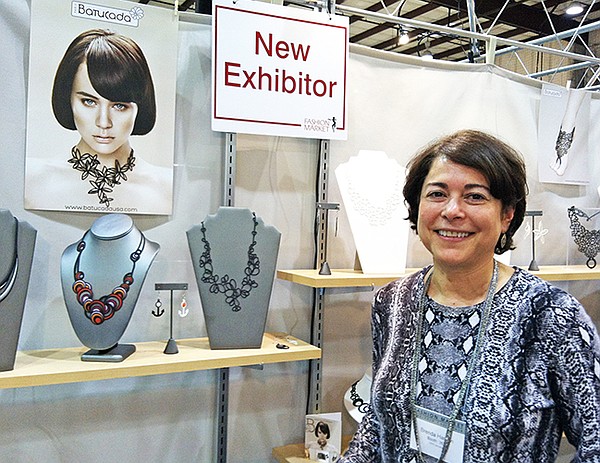 TRADE SHOW
New Exhibitors and Diverse Mix at Fashion Market Northern California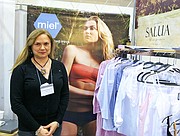 SAN MATEO, Calif.—There were several new exhibitors and a range of products from made-in-America apparel and accessories to European collections and moderately priced lines at the Jan. 25–27 run of Fashion Market Northern California at the San Mateo Event Center.
Brenda Hargan returned to FMNC for the first time in four years to showcase two lines of Paris-based jewelry.
"I've been really busy with both lines, so I'm really happy," said Hargan, who had landed seven orders within hours of the first day at FMNC.
Batucada is a new synthetic accessories line consisting of a "proprietary patent of plastic jewelry, flip-flops and ballerina shoes," Hargan said. The material is soft and smooth. The jewelry has intricate and feminine designs while the ballerina shoes are similar to the jelly-style shoes from the 1980s but with a softer look and feel. Wholesale prices range from $13 to $18.50.
Hargan's other collection, Potluck Paris, is a silver and pewter jewelry line of bracelets, necklaces, earrings and rings wholesale priced from $30 to $200.
"I kept hearing [Fashion Market Northern California] is really good," Hargan said.
FMNC has lines for every category of the market, ranging from affordable lines such as Pretty Angel to high-end collections such as Olivi's Lace. A wide range of trends and fashions converge in the single-story, open-booth show, which allows retailers to easily shop the show.
Evelyn Sanders-Haye, owner of A City Obsession, a women's clothing boutique with stores in San Francisco and Oakland, Calif., said she attends most markets to stock her store, which caters to fashion-minded women in the high-tech environment.
"I'm looking for long skirts, natural fibers, something edgy," said Sanders-Haye, who said she attends FMNC to also preview what will be in store at the larger national shows.
Sanders-Haye said she would like to see Fashion Market Northern California expand its international offerings—"because San Francisco is an international city," she said. She also would like to see the show highlight new exhibitors in a separate area.
This season, there were 22 new lines showing at FMNC and attendance was on par with last year, but Suzanne De Groot, FMNC executive director, said the number of new retailers increased.
"New stores attending was up by 33 percent, including stores from Alaska, Maine, Missouri, Massachusetts and Idaho," De Groot said.
First-time attendee Marie Florence traveled from Bend, Ore., where she runs Romantique Inc., a women's boutique of high-end lingerie, women's outerwear and shoes.
"I love it," Florence said. "It's easy, everything is next to each other for easy access, and I see all my lines from LA here."
At the show, Florence bought from established lines such as Tom Tom and from the Wells Apparel Group. She also met with Liliana Varbanova, the San Jose, Calif.–based representative for Salua Lingerie—a Seattle-based line of silk, cotton and spandex undergarments and nighties ranging from $16 to $110 wholesale—and Miel Sisters—a Canadian-based line of simple, seamless, everyday-wear bras and panties. Although this was Florence's first face-to-face meeting with Varbonova, the two have known each other for years. Before representing Salua and Miel Sisters, Varbanova was the vice president of sales for now-shuttered San Francisco–based lingerie line Mary Green, which Florence carried in her store.
"The venue is easy on exhibitors," Varbanova said. "They support you with setup and make it easy. Shows like this are useful, so I don't have to go from shop to shop. It's a gathering point for close-by states."
Sales representative Griffin Craig Williams landed 22 orders on the first day of the show for his moderately priced fashion lines Pretty Angel, TAN's, Aris A, and Monkey Mango.
Philanthropic mission
Los Angeles–based sales representative Sharon Koshet was showing 11 lines at FMNC, including L.L. Couture, a new collection with a philanthropic mission.
L.L. Couture—L.L.stands for "language of love"—is a women's fashion and accessories line with a yoga influence featuring everyday pants and T-shirts made in the U.S.A. and hand-stitched leather bags made in India. Ten percent of the proceeds from sales go to the Eddie Nash Foundation, which "raises money for the support of foster youth, motel kids and homeless youth," according to an L.L. Couture brochure. Wholesale prices for the clothing range from $20 to $43.50. Handbags run from $72 to $120.
"A lot of my San Francisco people who I don't see in LA come here," Lockhart said. "The atmosphere is less stressed and I love my customers—they're very loyal."
Marita Trobough was at FMNC on the hunt for some very specific items for her boutique, The Next Stop, in Los Gatos, Calif.
The Next Stop offers comfortable clothing for women undergoing chemotherapy and post-surgical treatment for cancer. Trobough said her mother died of breast cancer 30 years ago and she had the hardest time finding suitable clothing and head coverings. So Trobough opened a store specializing in fashion for women seeking to retain their beauty as they face a life-threatening illness.
"We need beautiful bandanas, wonderful turbans and hats—something that's comfortable and fun, so when they walk out of the store they feel they can do this," said Trobough, who is also a cancer survivor, "because it's a tough journey for these ladies."
At FMNC, Trobough found what she was looking for after perusing the accessories offerings such as hat lines Couture Inc., St. Julian and Arturo Rios, a line of handmade hats in the U.S. that wholesale for $55 to $100.