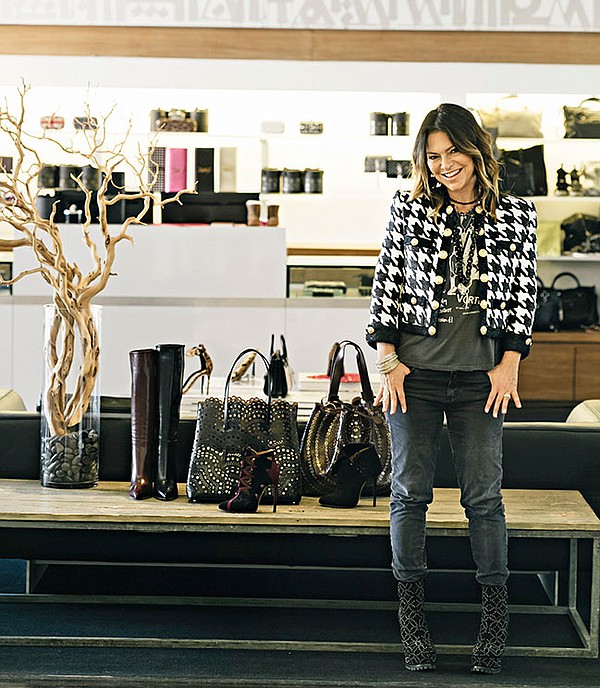 DESIGNER LOOKS
What's Next for Elyse Walker
Retailers do business in a world where every sale counts, but since Elyse Walker started her self-named boutique more than 15 years ago, she tried to take a different sales angle.
A visit to the Elyse Walker shop, a five-minute drive from the beach in Los Angeles' exclusive Pacific Palisades neighborhood, feels like a high-end fashion get-together where women talk about style and catch up under the hip paintings of the street artist Retna.
At the store, Walker plays the gracious host, a friend … and someone who would very much like to dress all of her clients, whether they live a few blocks away in a multi-million-dollar home overlooking the Pacific Ocean or in a loft in Manhattan's trendy West Village. But there is no hard sell. Rather, business seems like a conversation between friends and a conversation that never stops.
"I live and breathe my clients. I think of them all of the time, wherever I go," Walker said in a recent interview, looking a bit bohemian in a Rag & Bone skirt, Isabel Marant long-sleeve T-shirt and Chloé short-sleeve sweater. She took a break from the conversation when a sales associate walked by. "Molly, that dress…," Walker said. "Do we have that in a [size] 4 for Linda?"
The sales clerk walked away to look for the dress for a woman who is not in the store at 15306 Antioch St. Linda will send photos of the garment, probably by email, with the message that Walker was thinking about her and this special dress. They then may follow up with a call and ask if the client wants more information about the garment.
The unique sales style is famous, said Nicole Pollard Bayme, who shops at the store as a stylist and founder of LaLaLuxe, a 10-year-old company that outfits clients as well as guests staying at hotels such as the SLS Beverly Hills, Montage Beverly Hills and Beverly Wilshire.
"Elyse is like your best girlfriend. It doesn't feel like you are being sold anything," Pollard Bayme said. "When Elyse works with you, she can be whoever to whomever. She's fun, she's hip, she's up on fashion. Since she's so successful, she's not worried about making every sale. She'd be the first to tell you if something didn't look right."
Pollard Bayme said that Walker can often be found at her store, sitting on a comfortable couch talking with neighborhood moms and kids.
Walker built up one of Los Angeles' most exclusive lists of fashion clients and developed a sense of what looks good on Los Angeles' Westside. It's typically designer clothes from fashion houses such as Balenciaga, Alexander McQueen, Lanvin, Stella McCartney and Givenchy, mixed with an easygoing California sensibility, Pollard Bayme said.
Walker's business has grown into developing her own fashion lines, philanthropic endeavors and e-commerce. Her website, Fwrd (www.fwrd.com), has shown the most change recently, and it presents a challenge. How can you communicate Walker's charisma online?
The website was first at the address www.forwardbyelysewalker.com because Walker's designer partners wanted it to be known that the site was her production.
Last month, the site unveiled a "refresh," or renovations. The most prominent change was that the site's URL was whittled down to the more easily typed www.fwrd.com. However, the former name, Forward by Elyse Walker, still remains on the website.
On Jan. 29, the Balenciaga label was introduced on the site. Walker said only a few groups on the globe have the privilege of selling Balenciaga online. Her website will be presenting new apps, such as an iPad app, and making improvements to the site's iPhone app.
Mike Karanikolas, a partner in Walker's website and one of the founders of Revolve (www.revovleclothing.com), said that m-commerce, or sales through smartphones, grew 70 percent on the site in the past year.
Walker's online sales grew 50 percent in 2014 compared with the previous year, Karanikolas said. He declined to state the website's revenues but notes that the average sale is $700.
The site's point of difference is its coterie of designer brands. No other is more exclusive, said Michael Mente, another Revolve founder and partner in Fwrd.
"With Fwrd, we can take our curated designer roster mixed with Elyse's unique Los Angeles perspective and make it global," Mente said.
But can a computer communicate the unique charisma of Elyse Walker? "There's no doubt that it translates online," Karanikolas said. "We're continuing to figure out how to do it in more effective ways."
But Walker concedes that even in designer e-commerce, the full power of her sales magic doesn't always come through. "In the store, people have the luxury of trying on and touching the fabric, the feel of the lace, for example," she said. "The online shopper doesn't have the opportunity to do so, which is why the trust in the quality of what we buy is so important."
Also, online shoppers are often looking for deals and lower prices.
Bringing a boutique aesthetic to e-commerce can be problematic, said Colleen Winter, founder of Chico, Calif.–based e-commerce shop LuLu's(www.lulus.com). She shuttered her three physical boutiques in 2009.
"The experience of an online boutique is one-dimensional compared to the many dimensions of a physical store. Our stores were always destinations where we perfected our ambiance with the use of color, décor, displays, aromas and music in addition to our merchandising. When we went online, we struggled for quite a while with the dilemma of how to create this new reality, which had been obvious in our bricks-and-mortar spaces. We eventually created a boutique personality unique with imagery and in-house, curated content," she said.
Like her online site, Walker's other businesses have been thriving. Her fashion line, The Perfext (pronounced "Perfect"), which she designs with Sable Banoun, was introduced less than 10 months ago. There's also a footwear line, ElyseWalkerLosAngeles, which has been placed at high-profile retailers such as Neiman Marcus.
In October, she closed her annual Pink Party fundraiser for women's cancer research at Cedars-Sinai Medical Center. Over the past decade, Walker said, she raised more than $11 million and co-hosted the event with celebrities such as Jennifer Garner, Anne Hathaway, Jessica Biel and Michelle Pfeiffer.
She is considering producing a smaller fundraising event for cancer research in the future.
Physical boutiques continue to be important to her. Walker is considering adding space to her Pacific Palisades store, and new retail locations are continually on her radar screen.
A few years ago, she was considering opening a new store on Abbot Kinney Boulevard, but she didn't think the street's high-end retail was developed enough for her to move in. She has no plans to leave Antioch Street.