As of Thursday, February 26, 2015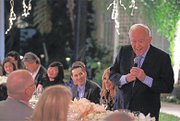 Henry T. Segerstrom, developer of South Coast Plaza, the retail center that brought Rodeo Drive luxury to Orange County, Calif., died Feb. 20 at his home in Newport Beach, Calif., after a brief illness. The death was announced by C.J. Segerstrom & Sons, the owner and manager of South Coast Plaza.
Segerstrom built South Coast Plaza during a time of transition for Orange County, when it was changing from an agricultural area to a region of tract homes and office towers. It was increasing in sophistication in business, the fine arts and retail as well.
Currently, South Coast Plaza is the address of retailers ranging from heritage brands Louis Vuitton, Prada and Chanel to department stores Nordstrom and Saks Fifth Avenue and fast-fashion emporiums Uniqlo, H&M and Forever 21/XXI Forever. It regularly receives international shopping tourists from China, Saudi Arabia, Mexico and Europe. It claims to be the highest-grossing retail center in the U.S., with annual sales in excess of $1.7 billion, according to a South Coast Plaza statement. It also is one of the only family-held retail centers in the United States. mm
Segerstrom was working as a real estate developer in the 1960s when he started considering building a mall on a lima-bean field in Costa Mesa, Calif.
South Coast Plaza opened in 1967. It was anchored by a May Co. store and a Sears. The Sears is still doing business at the retail center.
He later recruited retailers such as Bullocks, I. Magnin and Nordstrom to the center and European fashion houses and designer boutiques.
Segerstrom was a World War II veteran who was wounded in the Battle of the Bulge. He was a graduate of Stanford University and a patron of the arts. In 1976, he donated to the South Coast Repertory Theater land that his family had farmed in Costa Mesa. In 1980, he led a $74 million fundraising campaign to build the Orange County Performing Arts Center on part of that land. In 2006, the Renée and Henry Segerstrom Concert Hall opened. (The concert hall was named after Segerstrom and his second wife, Renée, who passed away in 2000.) It is currently home to the Pacific Symphony. In 2011, the arts campus was renamed the Segerstrom Center for the Arts.
"Segerstrom changed people's lives in Orange County," said Shaheen Sadeghi, the chief executive officer of Lab Holding LLC, which developed, owns and manages The Lab and The Camp specialty shopping centers, which are less than a five-minute drive from South Coast Plaza.
"What he did, he did first class," Sadeghi said. "He raised the bar for all of us. He had one mall, and it happened to be the best, as opposed to a large portfolio of mediocre malls like his competitors."
His survivors include his wife Elizabeth; his children, Andrea, Toren and Anton; six grandchildren; and seven great-grandchildren.