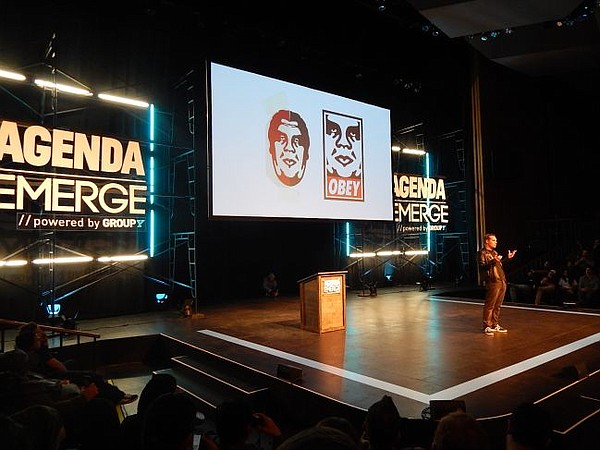 Agenda Emerge: Under the Hood of Nike, Obey and Hurley
What makes anyone tick? What gives the regular guy the moxie to start a successful business, or even make the giant leap to being a visionary in that business?
Those were some of the questions asked at the 4th Annual Agenda Emerge Conference, presented Jan. 6 to a full house at the 825 seat Center Theater at the Long Beach Convention Center, right after the Agenda trade show shut down after another successful run.
The big questions weren't exactly answered at this Ted talks for the skate, surf and streetwear world, which was produced by Group Y, a youth marketing collective. But the event's speakers talked about their storied careers. Speaking were Shepard Fairey, founder of Obey Giant, and artist behind the iconic "Hope" portrait of Obama, Bob Hurley, surf pioneer and founder of Hurley, Tinker Hatfield, vice president of innovation and creative concept at Nike, as well as one of the minds behind Nike's Air Jordan shoes.
Also speaking was Lyndon Cormack, co-founder of Herschel Supply Co., Mike Ness, guitarist and singer for popular rock band Social Distortion, and C.R. Stecyk III, a pioneering skate and street artist. Ryan Hurley, creative director for Hurley co-moderated the event. The introduction to his talk with Bob Hurley, his father, went where few interviews ventured. "Do I call you Bob or Dad?" Ryan asked. Laughs followed.
For many in the packed audience, Emerge was a chance to listen live to people who influenced the way that they see the world. Past the wild and wooly stories of creating something new, all of the speakers shared a sharp focus on their artistic and/or business vision. Most encouraged the audience to collaborate with others to create something new. All shared a stubborn refusal to quit.
"When they tell you that you can't do this, it just fueled the fire," Stecyk told the crowd. "Oh yeah? Sit back and watch."