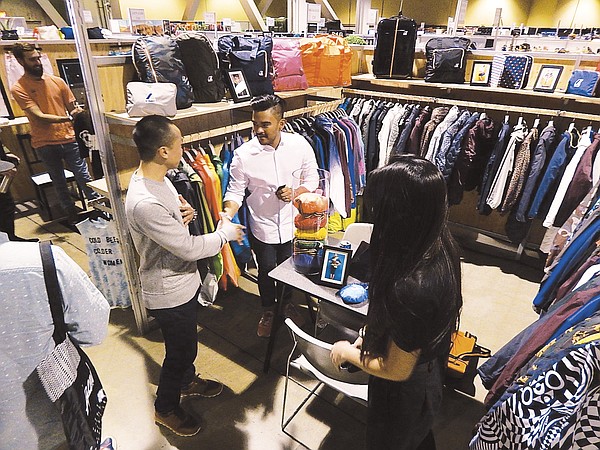 AGENDA
2015 Starts With Busy Trade Show
A cold winter helped produce a hot show at Agenda, the first trade show of the 2015 trade-show season, which ran Jan. 5–6 at the Long Beach Convention Center in Long Beach, Calif.
A cold snap in December pushed a higher demand for apparel, retailers said. A few days after the New Year, Agenda booths were packed with buyers, according to vendors. The show is best known for streetwear, action sports and lifestyle brands for men, but Agenda is continuing to develop its women's offerings at the show's Agenda WMNS section as well as shoes in its Footwear section.
The boost in December business fueled optimism, said Ron Abdel, co-owner of Jack's Surfboards, a prominent specialty retailer headquartered in Huntington Beach, Calif.
"It was very cold, and we sold a lot of jackets, sweatshirts and cold stuff," Abdel said of business in the last month of 2014. "I hope 2015 will be up."
Despite a steady beat of lackluster economic forecasts and headlines during the past few months, many retailers and analysts noted that 2014 ended on a positive note and that business seemed good for the streetwear and action-sports retailers served by Agenda.
An index of core surf and skate shops showed steady growth. Sales from January to November of 2014 increased 1.2 percent compared with the same time the previous year, according to an index maintained by ActionWatch, a market-research company that focuses on independent action-sports retailers.
There was real estate growth for retailers in the action-sports category, too. Specialty chain Active, headquartered in Rancho Cucamonga, Calif., announced during the summer that it plans to open 30 more stores in the next five years. In the last week of November, Jack's opened a new location in Santa Monica, Calif. Many of these stores dropped by Agenda, which claimed to host 750 brands in the entire space of the Convention Center, which takes up more than 250,000 square feet of space.
Shopping the show were mall-based specialty stores such as Pacific Sunwear of California, Tilly's Inc., Zumiez Inc. and Urban Outfitters Inc. Buyers from Macy's Inc. reportedly browsed the show. High-profile independent surf shops such as Sun Diego, Jack's and Surfside Sports sent buyers to the show. New independent boutiques such as In Heroes We Trust, based in Los Angeles' Venice enclave, and Hi Pop Fashion of West Covina, Calif., as well as e-commerce stores such as Surfshop.com, based in Orange County, Calif., dropped by the show. High-profile East Coast retailers such as the 17th Street Surf Shop in Virginia Beach, Va., and influential Hawaiian retailers such as Town & Country, Local Motion and Hawaiian Island Creations were also spotted at the show.
International buyers from Asia and Latin America also looked for new styles at Agenda. Their presence was especially important, said Joel Cooper, chief executive officer of Lost Enterprises, an Orange County brand. "This is the one time in the year when they see you," Cooper said of overseas retailers. "This is the show where they do business."
Fall collections and relaunches
Agenda's attendees saw the Fall 2015 looks of top streetwear and action-sports brands such as The Hundreds, Obey and Hurley. At Agenda, the prominent Volcom brand showed retailers its relaunch of its denim program as well as artist collaborations such as Ladygrouplove for Volcom, a capsule collection designed with musician Hannah Cooper.
RVCA, a leading brand, also showed the relaunch of its denim program as well as a loungewear line for women called The Sunday Collection, along with the relaunch of its Recession line, which features premium clothes at low prices. Vans expanded its Vans Wicked Dry technical fabric from its boardshorts line to some of its bottoms silhouettes.
Smaller brands announced new lines and launches at Agenda. Kennington established a reputation of being a men's shirting line and unveiled a new line of chino and corduroy bottoms. Vissla introduced fleece walk shorts made in a boardshort silhouette. New Zealand–headquartered brand I Love Ugly made its U.S. trade-show debut at Agenda.
Checking the schedule
Business at the trade show also brought complaints. Many vendors complained about having to fly cross country to attend the Jan. 8–10 run of the Surf Expo trade show in Orlando, Fla., immediately after Agenda.
Many complained that Agenda is scheduled too early. Lost Enterprise's Cooper said most vendors had to scramble to show their Fall collections at Agenda. "For 90 percent of small brands, this is too early to have Fall. Let me guarantee you that no one is writing Fall orders," Cooper said.
Dale H. Rhodes, executive vice president of sales at KatinUSA, said Agenda's schedule was a big help. It forces brands to start early. "It gives retailers and KatinUSA at least four to six months manufacturing time for on-time deliveries and Fall/Holiday delivery schedules," he said.
Trend watch
At Agenda, men's fashion trends that seemed to be popular were slim-fit fleece pants for men and T-shirts with longer hems. Todd Roberts, co-owner of the prominent ZJ Boarding House core surf shop in Santa Monica, Calif., said that there wasn't much change in men's styles. "Men's fashion remains sort of stagnant. A few changes to the uniform may see some pants getting a bit more comfortable and not so tight," he said.
Hi Pop, a boutique that started business in March, was particularly interested in labels such as Huf, Diamond Supply Co., Stüssy and Converse, said store manager Jacob Urbina.
Trends surging for women's looks at Agenda included florals, crochet laces in tops and dresses, graphic sublimation prints on activewear and yoga clothes, and urban motorcycle, said Tina Rani, a manufacturing consultant and designer and owner of the Venice Rani brand, which exhibited at Agenda.