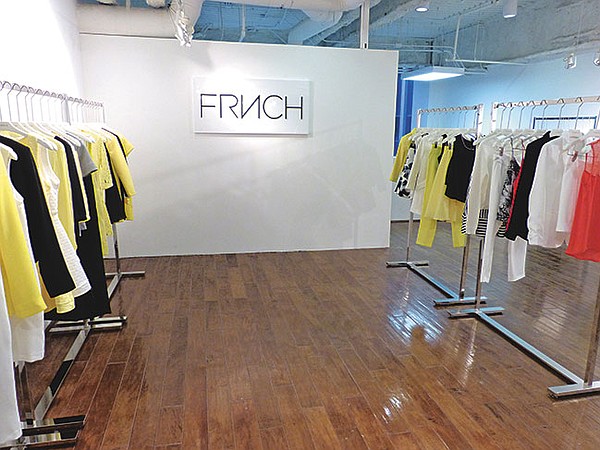 SHOWROOM PROFILES
Showroom Profile: Frnch Label
California Market Center, Suite B571
(213) 243-5855
The B-wing of the California Market Center's fifth floor just got a little more French with the opening of a new brand, Frnch Label, a young contemporary line designed in France and Los Angeles and produced in Asia.
The collection is a sister line to Lucy Paris, which was founded in France in 1998 and has been in the U.S. for about nine years.
Frnch Label was created by husband-and-wife team Frank Lin and Chloe Jin. (The brand pays homage to the first letters of their first names: Fr-n-Ch.)
Heading up sales for the United States is Simon Jin, brother of Chloe Jin, who recently opened a showroom for Frnch Label in the CMC.
When Simon Jin and U.S. designer Alice Chang moved into the space, they had it painted white and removed a wall blocking the view of the building's central atrium.
The clean, modern space provides a backdrop for the equally modern line, which is filled with black-and-white pieces punctuated with bright yellow, persimmon and electric blue.
"We would like to keep the focus on the clothing," Jin said. "We are trying to bring something new and different to the market."
The Frnch Label customer is fashion-conscious, Jin said, but the pieces are very wearable.
"They are very easy pieces," Chang said.
Jin chose to launch the line at the California Market Center because he wanted to start somewhere "solid—somewhere that has a history."
Wholesale prices for Frnch Label range from $20 for tops to $30 for dresses and up to $50 for coats.
The line is bowing during the Los Angeles Fashion Market before showing at WWDMAGIC and Fame in New York.