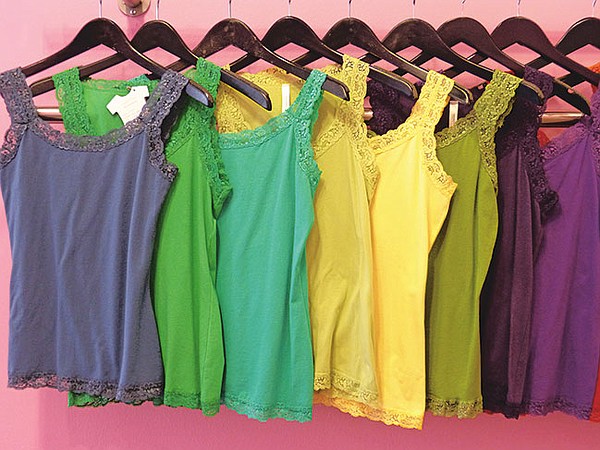 SHOWROOM PROFILES
Showroom Profile: Necessitees
The New Mart, Suite 708
(800) 791-TEES (8337)
After 26 years at the California Market Center, Hallie Shano decided it was time for a change.
When her CMC lease expired last year, she decided to move across the street to the seventh floor of The New Mart, opening a 1,200-square-foot space that is even brighter than her old space—if that is possible.
All the walls in her long, rectangular showroom are painted an eye-popping Pepto-Bismol pink. A gray shag rug and a white couch occupy the front sitting area, and a silvery-sequined mannequin greets visitors near the door.
Tall ceilings and a wall of paned windows add to the brightness and make it easier to take in Necessitees' collection of colorful T-shirts, dresses, pants and jackets made of domestically produced fabric. The line is cut and sewn in Los Angeles.
Even though every item is manufactured in Los Angeles, wholesale prices are modest with basics going for $14 to $18. The most expensive item, a long dress, fetches $42 wholesale.
To get the word out about her move, Shano sent out 4,000 postcards, letting retailers and buyers know she had a new location with a cheery vibe. "This will be our first [market week] show here, and we think the timing is perfect for people looking for Spring items. We do a huge Spring/Summer business."
Necessitees is known for its wide array of vivid colors. The line comes in 60 hues that would brighten any beach.
This year, the brand is concentrating on its 96 percent micro-Modal and 6 percent Lycra fabric that has a very soft touch. "It is a tighter knit. That 6 percent Lycra helps keep the color, and it doesn't pill."