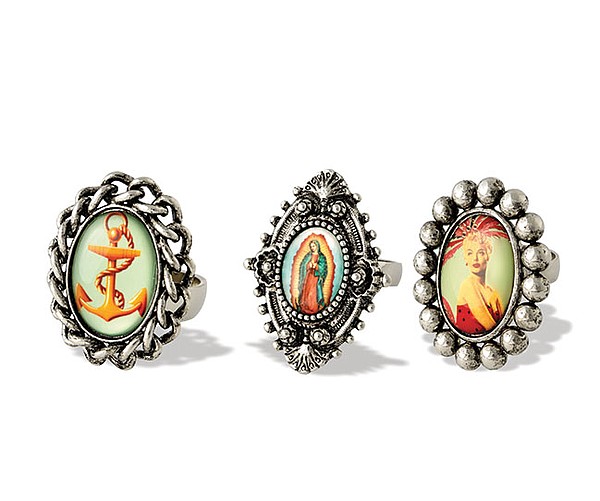 MANUFACTURING
Winky & Dutch: Novelty Metal Jewelry Made in the USA
After nearly 30 years making novelty jewelry in America, New York–based Winky & Dutch is restructuring the company, streamlining its pop culture–inspired collection and updating its back-end operations.
The company has been manufacturing premium novelty metal jewelry and accessories since 1987. All products and materials are made in the United States using metal, glass and acrylics manufactured in Los Angeles. Sales, marketing, product development and final assembly take place in New York, and administration and shipping are conducted from a warehouse near Syracuse, N.Y.
Winky & Dutch artwork is derived from a combination of licensed materials and original art created by in-house artists and graphic designers. Each piece features the company's signature acrylic photographic dome, which is manufactured and assembled from proprietary castings.
Last March, the company restructured, "retaining majority ownership within the same family by deploying new management, product development and creative direction," according to BJ Murray, chief operating officer.
The company reorganized operations, streamlined the manufacturing process and "greatly improved the design of our iconic pop culture–centric pieces and built a completely modern fulfillment, assembly and administrative back end," Murray said.
This month, the company launched an e-commerce platform for consumer retail at ShopWinky.com. Products offered include charm bracelets, buttons, cufflinks, earrings, medallion necklaces, hairpins, key chains, pins and rings, and the site offers roughly 800 artistic designs to choose from.
The company also released its first major licensing collaboration in many years, with CMG Worldwide for officially licensed "I Love New York" merchandise to promote New York state tourism, which was sold at PrideFest in New York.
"The company is in a renaissance right now," Murray said. "Trying to offer everyone-everything was tough—exponentially, with our current art and metal-product library, we could have 50,000 options available—so the new ShopWinky.com [e-commerce site] will feature a broad range of curated pieces in addition to selections from our archive of vintage findings and castings that we developed in-house," Murray said. "By relaunching the original pieces, adding new plating finishes, new artwork and new products to give the product dimension, Winky & Dutch is prepared for multiple sales verticals."
For more information, visit www.shopwinky.com.