As of Thursday, January 22, 2015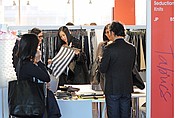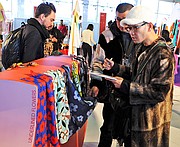 Première Vision New York and Indigo New York returned to Pier 92, on the western edge of Manhattan, for a second time Jan. 13–14. Almost 300 vendors from 24 countries, including a strong showing of Turkish firms, came to exhibit their Spring/Summer 2016 collections in the categories of fashion fabrics, accessories, and textile and surface design. That figure is up 14 percent from January 2014, when the show was held at the smaller Metropolitan Pavilion and Altman Building in Chelsea. Four thousand buyers attended the two-day show, including representatives from West Coast brands Vince, Trina Turk, Juicy Couture, Nasty Gal, Pacific Sunwear, Athleta and Patagonia.
Assessing the mood on the first day, Guglielmo Olearo, Première Vision's international exhibitions director, said, "People are positive. The fashion industry is strong. The crisis is behind us. There's a lot of interest in the U.S. market, which is strong in comparison to Europe. The U.S. is booming—the statistics in retail are positive, and the economic indicators are good. Everyone wants a part of that cake."
Though the show got off to a somewhat slow start, in part because of an early-morning fire at Penn Station that prevented thousands of commuters from getting into the city on the first day of the show, most vendors felt that things had picked up by mid-afternoon.
Sandrine Bernard, executive vice president of the New York office of the French lace mill Solstiss, said, "At the end of the day, it [Jan. 13] was a good day. I've seen a good selection of clients, high-quality people, some we know and some we're just meeting." Though Bernard felt it was too early to identify any strong trends ("at this point, people are looking for inspiration"), she pointed to new nettings and embellishment techniques as drawing a lot of attention.
In the vitrines arranged in the trend areas, visitors clustered around displays of textured fabrics and prints with a hand-drawn look, the latter a key talking point in Première Vision Deputy Fashion Director Sabine Le Chatelier's well-attended, hour-long trend presentation. In the accessories area, a selection of recently developed customizable rubber studs made by the Italian company Modimex generated interest, as did silicon-coated ribbons by the Italian firm EU Design.
Elizabeth J. Darin of the New York office of Takihuo Co. Ltd., which represents the Japanese mill Hokkoh, showing for the first time at Première Vision, said designers were drawn to textiles with texture and body such as a triple-layer knit and quilted knits in white/black, crimson, navy and gray. "Some of these are still a little intense for an American customer—they tend to stick with what they know," she said. "These fabrics give a boxy shape. Designers are interested, but they'll introduce them slowly."
Hugo Soudée, a sales manager at the French textile mill Philea, said designers were responding to textured, linen-look, poly-cotton jacquards with a subtle ethnic feel in neutrals rather than the brighter colors that prevailed for Spring/Summer '15. "People want something different. They've been going to China and buying the same things; it gets boring. I knew things were changing when Banana Republic bought a Philea jacquard. It was a smart move, bringing in a mix of high and low."
At the Baxter Fawcett booth at Indigo, David Haffner, who represents the London-based design studio in the United States, categorized business as "steady. We were busy all day." What drew the most attention, he said, were "graphic, flat, simplistic prints. There's a huge '80s floral story going on and Matisse-style prints, maybe because of the exhibit [at the Museum of Modern Art].
Laura Hughes, the creative director of the Laguna Beach, Calif.–based Browne Dog Studio textile design firm, showing at Indigo, said her bestseller was a Moroccan medallion print. "We deal with a lot of surf and swimwear brands, so that works for them—that and tropical. People have been going for brights and neons, which isn't surprising, but there's more interest than I expected."
Much of the talk at the show centered around the lackluster euro, which has depreciated more than 5 percent in the last three months, putting it on its weakest footing in nine years. "The euro has basically given us a 20 percent discount," said Kevin Maldonado, co-owner of the Los Angeles–based Studio Bert Forma. Maldonado was showing the collections of the French mills Philea and Velcorex, whose joint booth saw constant traffic.
Consequently, said Michele Verganò of Seterie Argenti, "Customers are interested in European and Italian fabrics. There's a feeling of optimism. People are careful about what they spend, but they prefer to have something special instead of just looking at the price and making their decision based on that. They want something exclusive that can't be made in Asia."
Karine Jacques, who represents Ulysse Pila/Reynaud Rexo, said, "Customers are glad to have a 'made in France' label. In fact, they ask us for labels that say that so they can put them in their garments; it's a selling point."