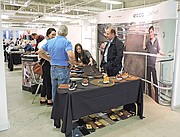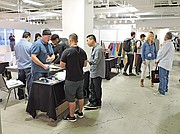 The debut run of the SoCal Materials Show got off to a brisk start as manufacturers and brands crowded the aisles of the California Market Center's penthouse on the hunt for sourcing materials for footwear, accessories and apparel.
Traffic was consistently busy over the course of the two-day show, organized by Portland, Ore.–based American Events Inc., which also runs the NW Materials Show in Portland and the NE Materials Show in Boston.
"This show has been great," said Leah Soles, the Portland-based representative for Yuan Ling Knitting Industrial Co. Ltd., a family-run vertical knitter in Changhua City, Taiwan. "I was surprised. It's nice to connect with Southern California."
Yuan Ling manufactures circular knits for footwear linings. Nike is one of its largest customers. At the SoCal Materials Show, Soles said, she primarily met with manufacturers based in Southern California, but she did meet with one person from Mexico.
Many of the exhibitors also show at one or both of the other American Events shows.
That was the case with Auburn Leather, a manufacturer of made-in-America shoelaces in Auburn, Ky.
"This is an opportunity to expand outreach to brands who don't make it out to Boston," said Adam D. Simon, director of sales and marketing.
Auburn Leather, which recently celebrated its 150th anniversary, is a family-owned business that sells footwear laces to brands such as Sperry, Timberland and L.L. Bean. On the West Coast, the company works with Deckers and DC Shoes, Simon said. Plus, he added, "We always pick up a little new business [at the shows]."
Simon said he is seeing a growing interest in made-in-America product. Although the company works with the large manufacturers—or "the big global guys," as Simon put it— the company is also able to work with smaller companies.
"We definitely support our domestic manufacturers where we can," he said. We are not the type of company that says we have a 10,000 [-piece] minimum."
For Daniel Pons de la Garza, who represents the Le Farc tannery in Guanajuato, Mexico, showing at the SoCal Materials Show was an opportunity to expand the company's California client base. (The company also shows at the NE Materials Show in Boston.)
Le Farc specializes in leather for higher-end designer footwear and accessories such as belts and bags, Pons de la Garza said.
"In California, there are a lot of very good shoe companies," he said. "California is very interesting. A lot of people are moving from New York to California."
The tannery's proximity to Southern California is an added benefit, Pons de la Garza said.
"Everybody is looking to make shoes in Mexico," he said. "It's a very good opportunity for everyone."
Mt. Holly, N.C.–based sewing thread maker American & Efird LLC was exhibiting at the show, hoping to meet with both footwear manufacturers and apparel makers.
Salinda Wong, the Pacific Coast manager for global retailer solutions, said she estimated about 30 percent of the attendees were interested in apparel resources. She said she finds the same percentage of apparel makers attend the shows in Portland and Boston.
"When it comes to sewing thread, I don't think people realize the technical aspects," she said.
Because thread tends to fall under the trim category, many apparel makers don't think they need to source it and will leave it up to their factories to purchase sewing thread, Wong said.
"People aren't coming to look for this, but it's important. I have to get them interested to educate them. They don't realize there is so much to it," she said.
Wong, who is based in Elk Grove, Calif., and covers the Pacific Coast from Southern California to Canada, hosts workshops for apparel manufacturers to talk about the technical aspects of sewing thread. She also works with design schools to start educating them about the properties of different sewing thread.
"If we can educate students from the get-go, when they get out in the real world they have an understanding of how sewing thread impacts quality," she said.
Over the course of the Jan. 14–15 run of SoCal Materials, close to 400 attendees walked the show, said Hisham Muhareb, who co-owns American Events with his wife,Kari.
Companies came from all over California, he said. "We have brands coming from Santa Barbara, San Francisco."
Muhareb said he started the Southern California show at the request of exhibitors.
"The big brands have been asking for this," he said. "Companies like Skechers, DC Shoes, Deckers—a lot of them have been very supportive. And the small brands, they can't [produce] their own vendor show, so they're happy."
The next SoCal Materials Show is scheduled to run in July.