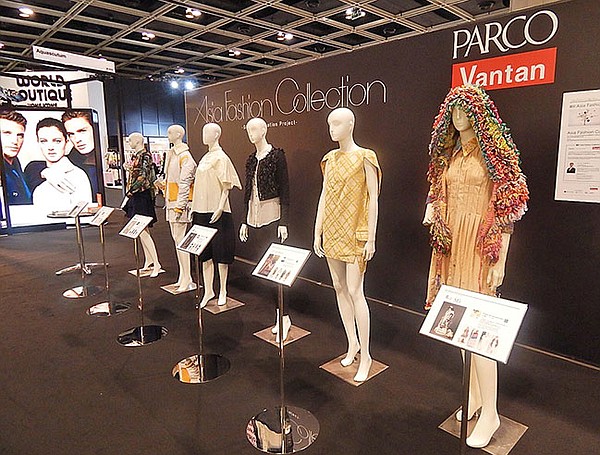 HONG KONG FASHION WEEK
Something for Everyone

HONG KONG—As China's apparel and textile industries compete to maintain their global dominance, similar challenges confront Hong Kong Fashion Week, established more than 40 years ago at a time when many people outside of Asia knew nothing about making clothes in this part of the world.
The gargantuan semi-annual trade show, which normally houses around 1,500 participants, saw a slight decrease in the number of exhibitors during its recent Jan. 19–22 run. Held at the sleek Hong Kong Convention & Exhibition Centre, it sports a spectacular waterfront view of Victoria Harbour and all the seafaring activity that goes on along the choppy aquatic thoroughfare.
For the Fall/Winter 2015 edition of the show, there were 1,484 exhibitors from 19 countries, about half represented by mainland China and about 25 percent from Hong Kong–based enterprises. The previous year there had been 1,543 exhibitors, who make a wide array of garments and accessories that include denim, swimwear, activewear, eveningwear, men's and women's clothing, childrenswear, buttons, zippers, handbags, shoes, and costume jewelry.
At the more stylish World Boutique, an adjunct show in January that focuses on fashion brands rather than cut-and-sew and manufacturing operations, there was a slight uptick of 303 exhibitors, three more than last year.
What seemed to be in major decline was the number of foreign buyers attending the show. Definitely absent were the hordes of Russian buyers who seemed to blanket the show a few years ago.
Before, it was not uncommon to frequently hear Russian on the escalators going up and down the various floors where the exhibit halls are located. A dearth of Russian buyers was confirmed by Alexander Lareks, a Russian who works for Fashion Collection magazine in Moscow. He was looking for Russian buyers to interview for his luxury womenswear publication but found a big drop in attendance by his fellow compatriots who may have fewer rubles to spend now that the country is seeing a downturn in oil revenues. Russia is predicted to settle into a serious economic slump this year.
The disappearance of buyers was felt by Akshay Agrawal, a director for Amod Exports, which manufactures some 70,000 garments a month from his mid-size factory outside of Mumbai, India.
For the last five years, he has been attending the show with a contingent of manufacturers that make up the India Pavilion. This year there were 52 companies in the group.
"Five years ago there would be 30 to 40 people who would drop their business cards off," he said, pointing to a box on top of the table placed in front of his wide array of colorful tops and dresses. "Now I may reach 15 to 20 maximum. But that doesn't mean you don't get orders."
Tempting to buyers is his low-cost wholesale prices of $7 to $8 for a blouse and $8 for a casual dress—many of which have value-added elements such as detailed embroidery.
Wang Tai Fashion Wholesale—a manufacturer of dresses, tops and pants based in Hong Kong—has been attending the show for 10 years. "Before this show was good, but not too many people are coming now," said Judy Kwok, a director for the company, which has a factory in Dongguan in southern China with 300 workers and another factory in Cambodia with 400 workers.
Quality vs. quantity
Although there was no traffic jam of buyers, those wandering the halls were serious about making contacts and finding new resources.
This was true for Phyllis Brasch Librach, president and founder of Sydney's Closet in St. Louis. The manufacturer of plus-size special-occasion dresses was paying her third visit to the fair, where she was hoping to meet new resources, see current manufacturers and glean some creative ideas by perusing the various booths in the Emporium de Mode and other sections of the four-day fair. Then she was off to southern China to meet with her current roster of factories to plan her Spring/Summer 2016 season.
"I come to China several times a year to manufacture, and the fair gives us the chance to see fashion trends. We have to be ahead of the curve," she said. "And we can see half a dozen vendors all in the same hall. Skype and email are great, but nothing replaces that face-to-face experience."
She also likes the various seminars on subjects such as "Sustainable Development of the Fashion Industry" and trend-forecasting sessions. She also attends the Hong Kong Accessories Fair and the Canton Fair in Guangzhou, China, to manufacture her large-size selection of prom dresses, which wholesale for $129 to $250; her special-occasion frocks, which have a wholesale price of $129 to $249; and her bridal gowns, which go for $149 to $499 wholesale.
Equally intent on placing orders was Mathilde Ottaviano, the new knitwear buyer for La Redoute, a large mail-order and online clothing venture in France. The company develops 90 percent of its own designs but is looking for more manufacturers to chip in with their own styles. She has already seen a couple of factories. "If I bring back good business, I would like to come back to Hong Kong Fashion Week at least once a year," Ottaviano said. Finding new factories is a long process because La Redoute likes to make two separate inspections of the facilities to verify social compliance and physical standards before placing orders.
But not everyone was looking to place orders. There were some buyers who were roaming the halls looking for "fashion inspiration" and checking out the trends. That was true of Jacob Separzadeh, whose Los Angeles company, Radzoli, manufactures primarily dresses and tops sold in specialty stores in places such as Chicago and Las Vegas. "For 20 years I came to this show to find factories. And I only dealt with factories or manufacturers who had offices in Hong Kong," he said.
Now, to avoid placing large minimum orders, he has his own small factory with 7 to 15 workers in southern China, across the border from Hong Kong. The factory turns out 200 styles per season. He was walking the show with his Chinese fashion designer to survey what was showing.
Many manufacturers at the show believe that slim buyer traffic is an indication that many companies are either going directly to China to do business or skipping the country altogether now that prices are escalating.
The average Chinese garment worker makes anywhere from $400 to $600 a month with benefits, compared with $100 to $200 some 10 years ago, said Shirley Chan, chairwoman of the Hong Kong Trade Development Council's garment advisory committee. She is also chief executive of YGM Trading Ltd., which licenses or owns such labels as Aquascutum, Ashworth and Michel René. Her Yangtzekiang Garment Ltd. makes clothing for such labels as J. Crew, Nike and Ralph Lauren.
"Chinese labor costs are getting much higher. And with the one-child policy, a lot of the young people don't want to go into the industry," she said. "A lot of manufacturing is still done in China, particularly the higher and middle end, but people are talking more about Vietnam and Cambodia."
Many Chinese manufacturers are hedging their bets against a manufacturing slowdown in their country. Several Chinese apparel makers with booths were showing off their factories in Cambodia, where wages are one-fourth those in China and apparel made there can be exported to Canada, Europe and Japan duty free because of the generalized system of preferences giving certain developing countries import advantages.