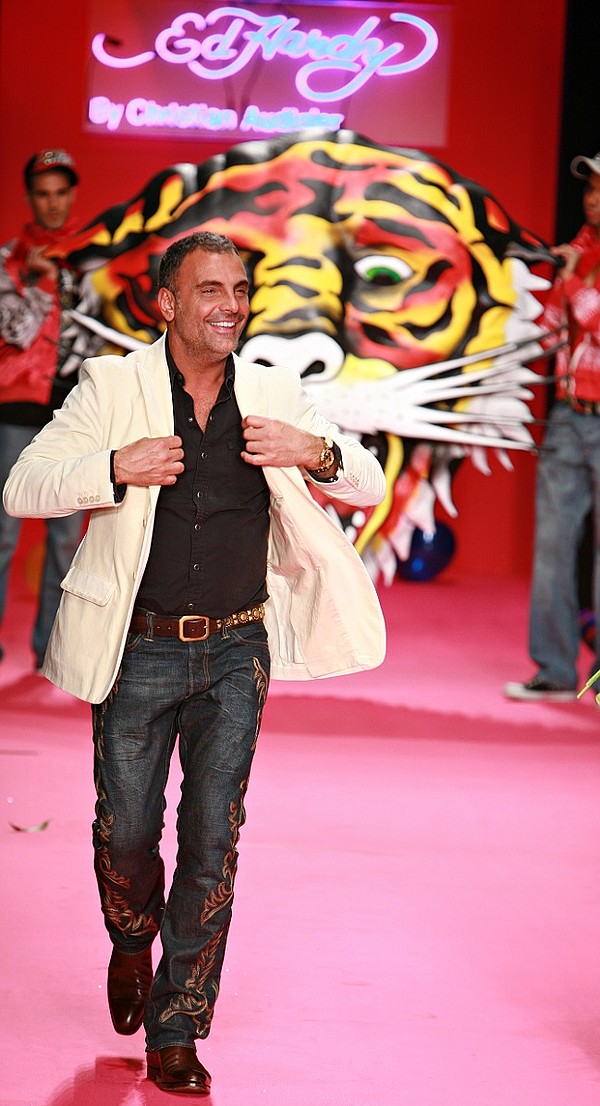 MANUFACTURING
OBITUARY: Christian Audigier, Founder of Ed Hardy, 57
Christian Audigier, one of the more flamboyant clothing makers on the West Coast and who launched the wildly popular Ed Hardy label, died from cancer at 3:45 a.m. on July 10 at Cedars-Sinai Medical Center in Los Angeles. He was 57.
Audigier took the art of San Francisco tattoo artist Don Ed Hardy and incorporated it into the Ed Hardy label in 2004. The brand grew exponentially and encompassed everything from T-shirts and dresses, underwear, swimsuits and shoes to vodka and car air fresheners.
His other labels included Christian Audigier, SMET, Crystal Rock, C-Bar-A and Rock Fabulous with Dave Stewart, The Same Guy, and Lord Baltimore.
He was a big presence on the Las Vegas trade-show circuit. When people complained he was playing music too loudly at the Project trade show, he started his own Las Vegas trade show, called When I Move You Move, a name that referenced a song by Ludacris. The show, held at Caesars Palace, lasted two seasons.
In 2011, he sold the Ed Hardy label to New York–based Iconix Brand Group for $62 million.
"Christian was, first of all, a very hard worker," said Hubert Guez, who was the chief executive of Ed Hardy from 2008 to 2012 and had been holding vigil at the hospital with Audigier's wife, Nathalie, hours before he died. "I worked for him for four years, and he was the only one who would beat me to the office. During my whole career, I was the one who got into the office first."
Guez said that everyone in the fashion industry thought Audigier had gotten lucky with his brand, but it was no coincidence that he was successful. "He was very smart and influenced a lot of people in the industry," he said.
Years before starting Ed Hardy, Audigier worked with Hubert Guez and his brother Paul Guez at Azteca Production International, a Los Angeles venture that had clothing factories in Mexico. They hired Audigier when they were doing production for American Eagle Outfitters. Audigier redesigned the company's line, and clothing started flying off the shelf. "This guy was just unbelievable," said Paul Guez. "He changed the industry with his way of looking at things."
Paul Guez said he and scores of Los Angeles fashion-industry people had been praying for Audigier at their local synagogue after the fashion icon was diagnosed in January with myelodysplastic syndrome, a cancer of the bone.
Audigier was born in Avignon, France, on May 21, 1958, to a single mother. He had one brother and one sister.
Fashion was always in his mind. While in his teens, he designed a denim line inspired by one of his favorite bands, the Rolling Stones.
In his 20s, he moved to New York, where he worked with labels such as Guess, Levi's, Diesel, American Outfitters, Fiorucci, Bisou Bisou and XOXO.
He then moved to Los Angeles where he teamed up with the principals of Von Dutch to take that brand to new heights with celebrities such as Britney Spears and Justin Timberlake sporting the company's looks. Audigier left Von Dutch in 2004 to start his own brand.
Retailer Fred Levine, co-founder of M.Fredric, recalled Audigier as "the most lovely pain in the neck I've ever come across in this business."
"He was a hyper-energetic go-getter who would drive you crazy but in the sweetest way ever," Levine said. "He was a sweet, lovable guy—crazy. You got to give the guy a huge amount of credit. He made a splash in the contemporary fashion world with something different, unique, and he gave people a reason to go shopping. When people ask how is business, I say we need the next Christian Audigier to come along. He helped our industry. Some people are intimidated by people who are out of the box, but I wish there were more people out there as bold as he was. He gave the industry a kick in the ass. Under all of that craziness, he was a sweet, lovable human being. He had a zest for life."
Journalist Laurie Pike wasn't a fan of the clothing but said she was fascinated by Audigier's talent for spotting a trend with mass-market appeal, from the Von Dutch trucker caps to the Ed Hardy tattoo-emblazoned T-shirts.
"I was amazed by his ability to predict what people would want to wear—and to get them to wear it," she said. "He was so crass and commercial, paying people to wear his stuff and obsessed with celebrity. But he was such an outsized personality that you could not help but be really amazed at his magnetism. He always made you feel like you were at a nightclub when you were with him. Whether you were in a room with him or in a car or at a party, you felt like you were having more fun than anybody else. There was always something really fun about him. At the same time, he definitely felt like a very dangerous kind of person and a gangstery person. And that was part of his allure."
When Pike wrote a long profile of Audigier for Los Angeles magazine in 2009, she got an advance copy of Audigier's autobiography from the French publisher. Although filled with racy stories, the book barely scratched the surface of Audigier's life.
"He's just one of those characters where you're never going to get to the bottom of the story," Pike said. "There's always more juicy information the more you dig," Pike said. "He was a completely self-made man, and he loved to tell you that story."
When Audigier's business was at its height, the brands—and the man behind them—attracted a lot of attention within the apparel industry.
"This industry has had a lot of superstars, some reluctant and some larger than life and right in your face about it," said Greg Weisman, an attorney with Ritholz Levy Sanders Chidekel & Fields. "Say what you want about Christian—and many people said a lot, actually—but he was a marketing genius and the de facto Elvis of sportswear on the West Coast for a lot of years."
Audigier is survived by his wife; his daughter, Crystal; and three sons, Rocco-Mick-Jagger, Dylan and Vito.