MANUFACTURING
New Chief Executive Joining Guess Inc.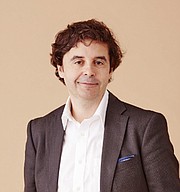 Guess? Inc. has hired a new chief executive who will be joining the Los Angeles clothing company in August.
Victor Herrero, whose previous job was head of Asia Pacific for Inditex Group, the parent company of fast-fashion Spanish retailer Zara, will be replacing Paul Marciano.
Paul Marciano, who cofounded the company with his brothers, Maurice and Georges, in the 1980s, will replace Maurice Marciano as executive chairman of the board and serve as chief creative officer.
Maurice Marciano will remain a director and have the title of chairman emeritus.
Herrero will receive a base salary of $1.2 million and a $2 million signing bonus. He is also eligible for a $1 million bonus in 2016. Herrero has an extensive background in business and law. For the past 12 years, he has been with Inditex and spent 10 years building up the Spanish retailer's business in Asia.
Prior to Inditex, Herrero was a management consultant working for Arthur Andersen in Asia. He has a master's in business administration from the Kellogg School of Management at Northwestern University in Evanston, Illinois. He also earned a bachelor's degree in business administration from ESCP in Paris and has a bachelor's of law degree from the University of Zaragoza in Spain.
"Maurice and I have been working with the board for over a year now to select the right candidate to be my successor as chief executive officer," said Paul Marciano. "The most important criteria in our view are the understanding of our brand, which will celebrate its 35th anniversary next year; the complexity of our business being in over 90 countries with more than 25 categories of products; and having a deep understanding of the changing environment of the retail world. We believe that Victor is the perfect top executive because, in addition to his entrepreneurial spirit, he has unparalleled experience in building a large business in Asia, he has a deep understanding of the current world of retail, and he is extremely knowledgeable in best-in-class sourcing and supply chain."
Guess designs, markets, distributes and licenses a lifestyle collection of contemporary apparel, denim, handbags, watches, footwear and other related consumer products.
The company has 470 stores in the United States and Canada and 361 retail stores in Europe, Asia and Latin America. Licensees and distributors operate an additional 836 retail stores outside of the United States and Canada.
Guess has been hit by soft consumer spending recently and has seen its revenues decline over the past four years. In fiscal 2015, it had a profit of $94.6 million on $2.4 billion in revenues. In fiscal 2014, it had a profit of $153.4 million on $2.6 billion in revenues.