As of Thursday, July 23, 2015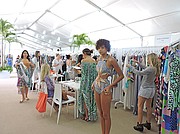 MIAMI BEACH , Fla.—In a couple of big tents by the Atlantic Ocean, the Cabana trade show provided a busy and easygoing forum for fashion swimwear brands during the event, which took place July 18–20 at Collins Park, adjacent to the W Hotel, where the Hammock trade show was held at the same time.
It was the third run of Cabana, which was co-founded and produced by Janet Wong, the women's buyer from the Miami Beach location of Atrium, a prominent New York–based boutique. Wong said that 140 brands exhibited compared with 100 brands last year.
Like last year, Cabana was held in two large tents; one was 19,000 square feet, and the other was 14,000 square feet. Both were air conditioned to beat back the 90-degree heat that greeted everyone.
High-end retailers such as Barneys New York, Bergdorf Goodman, Nordstrom and Net-A-Porter visited the swimwear show. Also seen were swim retailers Everything But Water and e-tailers Shopbop and Revolve, according to Wong and Cabana vendors.
Most of the show's real estate was devoted to women's fashion swimwear brands such as Clover Canyon, Mara Hoffman, Norma Kamali, Salinas and Wildfox. Also on display were emerging brands such as Beach Riot, Flagpole Swim and We Are Handsome as well as Minimale Animale. A handful of men's fashion swim brands such as Parke & Ronen also took part in the show, where vendors and buyers were offered coconut water served in the shell.
Jeremy Somers of We Are Handsome said that the pace of the show was easygoing but there was business to be had. "There's no jostling," he said of the show's pace. "There are more buyers here than last year."
We Are Handsome made its U.S. trade-show debut at Cabana in 2014. Based in Australia, the brand is planning to move to Los Angeles by the end of 2015.
Jaime Barker of Flagpole Swim estimated that traffic doubled for her New York City–headquartered brand. Some buyers left paper. "There's a lot of following up to do," she said.
Parke Lutter, co-founder of Parke & Ronen, showed his brand's Spring 2016 looks, which offered some 1970s inspirations. "We made some new contacts, and we had some good walk-bys. That's why you do trade shows," he said.
Cabana has scheduled its first West Coast show for Aug. 13–14. However, the venue has not been announced, Wong said, noting that more details will be revealed by the end of July.
"We're looking for the right venue," the show's organizer said. "Atmosphere is very important."