TRADE SHOW REPORT
Agenda's Mix Includes Sport, Street, Skate and Surf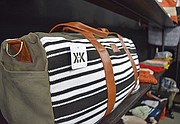 NEW YORK—"I used to be the young guy," said Aaron Levant, the 30-year-old founder of lifestyle fashion trade show Agenda. "Now I feel like the old guy."
Levant launched Agenda in California in 2003 at the age of 19 with humble beginnings: a satellite trade show with 30 brands and a $500 exhibitor fee.
Thirteen years later, Agenda has expanded to three cities, with six shows and more than 1,000 brands exhibiting annually.
Now in its fifth year in New York, the show enjoyed its third season July 20–21 at the Javits Center on the heels of the first-ever New York Fashion Week: Men's.
"We never strived to be an overnight success in New York," Levant said. "It's about making sure we have brands here that make sense."
Agenda bridges the intersection of sport, street, skate and surf, boasting heritage brands such as Burton, Vans and Jansport as well as newcomer brands such as Ransom, Native Shows and Civil Clothing.
One of the brands Levant feels makes sense is reflective apparel and accessories company ICNY.
In 2012, ICNY founder/designer Mike Cherman was struck by a car while riding his bike. After a trying recovery, Cherman began reflecting—quite literally—about designing a line of apparel and accessories using reflective materials to protect cyclists and pedestrians from motorists.
"I'm doing something to keep myself and others safe for life," said Cherman, who created monogrammed hats for attendees in his Agenda exhibitor booth.
PSD Underwear, which recently named the Cleveland Cavaliers' Kyrie Irving as an equity partner, celebrated its second year showing at Agenda, citing consistency as its primary motive for return.
"Retailers want to see you every time," PSD President Curt Flaitz said. "You have to stay in front of them."
One brand that has mastered the art of consistency is Vancouver-based Herschel Supply Co., founded in 2009 by brothers Jamie and Lyndon Cormack.
"We don't do this show for ourselves; we do it for the retailers, so they can see the line in its full capacity," said Lyndon Cormack, motioning at Herschel's full-length display of backpacks and travel accessories. "Any time you can interact with customers on the show floor, it helps you understand their needs more."
Costa Mesa, Calif.–based Krochet Kids Internationalis a nonprofit apparel brand whose profits fund employment education, training and mentorship in Uganda and Peru. Each piece of clothing is signed by the person who made it.
"Our goal is that our employees will have enough capital to leave the program and be self-sufficient," said Stewart Ramsey, who cofounded the company eight years ago. Krochet Kids currently employees more than 200 women.