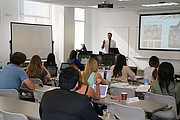 Brand narrative—and the legal knowledge necessary to further a company's vision—was at the heart of Loyola Law School's second annual Fashion Law Summer Intensive program.
"Fashion is all about the story. Any successful brand needs a compelling narrative," said Staci Jennifer Riordan, executive director of the Fashion Law Project at Loyola Law School and partner and chair of the Nixon Peabody Fashion Law Practice Group. This theme for this year's program gave students a legal "framework to guide their storylines," she said.
The week-long program, held July 23–31 at the law school's campus in Los Angeles, is designed for not only fashion entrepreneurs and executives but also attorneys who represent fashion-industry clients as well as current law students interested in learning more about how the numerous existing areas of the American and international legal system are applicable to the fashion industry—and, what some legal academics believe, is growing into its own recognized area of law, similar to what happened with "entertainment law."
California has 29 sets of statues called codes, which cover everything from water to insurance to education. Aaron Renfro, an associate at Call & Jensen and one of several presenters at the program, joked that no attorney says, "I'm going to go to the fashion code" to find a specific law. However, he explained that the concept of "fashion law" is evolving into a combination of the laws covering intellectual property, employment, commercial agreements, e-commerce, advertising, corporate transactions, real estate, customs, and much more. Renfro said his clients include raw-materials producers, textile manufacturers, fashion designers, apparel manufacturers, factories and retailers, who need counsel in those areas. ("They're sued all the time," he said.)
With that in mind, one of the goals of the program is not only to teach those in the fashion industry about legal issues affecting their business but also to give attorneys who represent the industry a greater understanding of their clients' needs.
Topics such as "Creating Your Brand's Story: Strategy Considerations From DNA to Mission Statements" and "Rights of Publicity, Licensing and Other Legal Considerations in Brand Development" illustrate how the creative side of fashion—and not just the business side—has important legal considerations that might not be readily apparent.
The creation of the brand name Lululemon, for example, was not just an indicator of the company's creativity, but it made it easier for the company to trademark the name, explained Oliver Bajracharya, a partner at Christie Parker Hale. "All trademarks are not created equal," he said. "The more distinct a trademark, the stronger it is" in the eyes of the law. Bajracharya said names that are arbitrary (such as Lululemon), fanciful (such as Banana Republic) or suggestive (such as Ray Ban), which do not necessarily describe their respective products, are much more likely to qualify for trademarks than names that are more descriptive or generic. The name Holiday Inn, for example, describes the actual product of a hotel for people on vacation much more than the names Lululemon or Banana Republic describe their respective products. But Holiday Inn was still able to trademark its name by showing acquired distinctiveness—evidence of consumers' recognition of the name for that specific product. A generic name might also have trouble getting a trademark. If Apple Inc. had sold produce instead of computers, that company probably would not have been able to obtain a trademark of the Apple name, Bajracharya explained.
As opposed to patents, a trademark must also be nonfunctional. Although Owens Corning is not a fashion-related company, it served as an example of when color may or may not be used in conjunction with a trademark. Bajracharya said Owens Corning was able to obtain a trademark for the color pink used in combination with its fiberglass insulation because the color served no actual function other than to distinguish the brand in the eyes of the consumer. (The point of trademarks is to identify the brand, not to allow companies to place unfair restrictions on their competitors, thus the requirement that a trademark be nonfunctional.)
Licensing and workforce issues
Renfro, of Call & Jensen, also discussed legal issues from the business end. Licensing, for example, allows a business that has a brand value to expand into another area in which it has less expertise and experience. "It's seen by a lot of people as free money," said Renfro, who said licensing can often be a "win-win," but "a lot of time, litigation ensues."
He gave the example of the licensing agreement in which The Warnaco Group Inc. agreed to sell Calvin Klein at places of "high standards and prestige," and Calvin Klein sued when Warnaco sold the former's products at well-known—but discount—retailers such as Costco. The case ended up settling, but it was an example of the importance of wording in business agreements. (Nevertheless, Costco still sells Calvin Klein, and Renfro even pointed out that he had just realized the day of his presentation that he was wearing Calvin Klein that he had bought at Costco.)
Bajracharya also discussed the recent U.S. Supreme Court ruling involving a woman who wears a headscarf per her religious beliefs and was denied a job at Abercrombie & Fitch because of the company's "no-caps" policy for its employees.
Samantha Elauf, a practicing Muslim, wore her headscarf to the job interview and received a rating from the interviewer that qualified Elauf to be hired. But a district manager instructed the store not to hire Elauf, allegedly because her headscarf would violate the company's dress code. In court, Abercrombie argued that Elauf had not actually made a specific request during the hiring process to receive an exception to the dress code.
But in its ruling in June, the Supreme Court ruled that Abercrombie still violated the Civil Rights Act because Elauf's need for accommodation was a factor in the company's decision not to hire her—whether or not Elauf ever mentioned the need for accommodation in her application or during the interview. "A no-caps policy is fine. But an employer must accommodate a religious practice that may conflict with that policy," Bajracharya said of the Supreme Court's ruling.
After completion of this seminar, the fashion law curriculum at Loyola is also expanding its audience this fall. "For the first time, non-JD students enrolled in the inaugural class of Loyola's new Master of Science in Legal Studies curriculum will be able to follow a fashion law framework to develop and sharpen their fashion business skills," Riordan said.
There will also be a new class at the law school, Retail Law & Fashion, taught by Adjunct Professor Deborah Greaves, of counsel at Ezra Brutzkus Gubner.