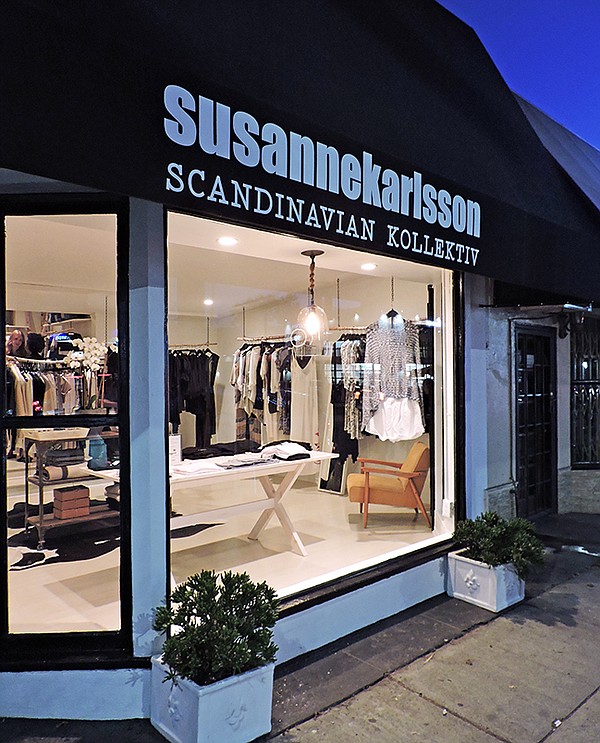 LA'S 'LITTLE SCANDINAVIA'
California Retail With a Swedish Accent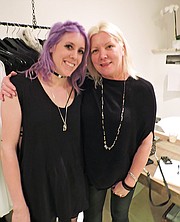 At the opening of the Susanne Karlsson Scandinavian Kollectiv store on Los Angeles' West Third Street, Swedish was the predominant language, guests included members of the Swedish-American Chamber of Commerce, and hors d'oeuvres included homemade Swedish pancakes served with cocktails made with Absolut vodka and Rekorderlig cider.
Susanne Karlsson, known to many in the retail and apparel industry as Suss Cousins, took over the space at 8024 W. Third St. five weeks before her May 28 opening. Now designing under her maiden name, Karlsson gave the retail space a Scandinavian makeover by painting the walls and floor white and hanging the clothing on birch-branch fixtures. The pass-through to the kitchen in the back of the store is marked "fika," the Swedish word for "refreshments."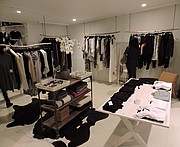 "We did everything in four weeks," Karlsson said. "I had a vision of what I wanted. It's basically a Scandinavian home."
The Scandinavian Kollectiv store carries Karlsson's apparel line, Susanne Karlsson, and Fischer Karlsson, the luxury scarf collection she designs with Lisa Fischer. The store also carries Mor Dotter, the contemporary line designed by Karlsson's daughter Hanna Cousins and jewelry collection PK Silver Design, which is designed by Karlsson's brother, Peter Karlsson.
Daughter Hanna was in attendance at the May 28 party, as was Karlsson's younger daughter, Viveka, and Karlsson's husband, Brian Cousins.
"It's a family of designers," Susanne Karlsson said. "I'm trying to bring other Swedish designers in to help them launch and find a home in LA."
Other Scandinavian collections carried in the store include glasswork by Erik Eiserling, Erika Honig jewelry, Pernilla jewelry, Ulf blouses, Chambres lingerie and Wellington watches.
Karlsson's collections are produced locally, including the hand-painted tissue-weight cashmere scarf in the Fischer Karlsson collection. One style is printed with hand-painted insects, inspired by Karlsson's memory of working in the garden in Sweden with her grandfather.
"Everything has to have a story when you're a designer," she said.
Currently, she's collaborating with a Swedish clog maker to develop a clog collection, which will be carried in the store as well.
"It was time for me to have a store again," said the designer, who had a boutique and studio on Beverly Boulevard for many years, where she sold apparel, accessories and knitting supplies and hosted knitting classes. Karlsson calls the new location "perfect for me."
"It feels like home," she said.
With the opening of the Scandinavian Kollectiv, West Third is turning into a Scandinavian neighborhood. There's Sockerbit, a Scandinavian candy shop, next door to Karlsson's boutique, and Swedish-American designer Lotte Stensson has a store nearby as does Danish designer Anine Bing.
"It's a whole Scandinavian block," Karlsson said.
For more information, visit www.susannekarlssonsweden.com or email susanne@susannekarlssonsweden.com.