As of Friday, June 12, 2015
Photo Gallery
National Jewish Black & White Ball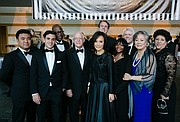 It was a sea of black-and-white formalwear at the Skirball Cultural Center in West Los Angeles when apparel-industry executives gathered to honor Sunnie S. Kim, president and chief executive officer of Hana Financial Inc., and George P. Blanco, managing director and partner of Avant Advisory Group.
The June 6 Black & White Ball is an annual event presented by the L.A. Professional Services to benefit National Jewish Health, the Denver research hospital that specializes in respiratory illnesses.
"My experience at National Jewish Health opened my eyes to experiences I don't see every day," Kim said. "It is a great honor to help."
Kim told the crowd about the privation she saw in her native Korea in the years after the Korean War. "I saw people gathering together in shelters where there was not enough to eat," she said. Initially, she brought rice to feed hungry people, and later she taught reading and writing to people who did not have access to education. When Kim founded Hana Financial in Los Angeles in 1994, it provided Kim with the opportunity to help small businesses that did not have access to traditional financing.
"I am so impressed by the people and the facilities at National Jewish Health [as well as] the commitment to treat people who do not have the financing," Kim continued. "It is vital to increase awareness of their amazing work."
She concluded by thanking the guests using the formal Korean word "kamsahamnida."
Blanco echoed Kim's sentiments, saying, "What they're doing at National Jewish Health is really important. How can we make a difference? I think we've already begun. Please join me in applauding the efforts of the National Jewish Health staff and team."