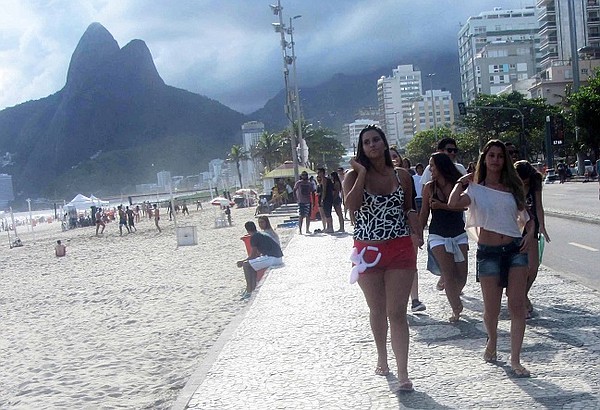 GUEST BLOGGER: ESTEVAN RAMOS
Street Scene: Summer in Rio 2015
Los Angeles designer and stylist Estevan Ramos was recently in Rio de Janeiro, styling a shoot for the Athleta brand. It was his first time in Brazil and he says he immediately felt inspired of the beauty, culture and uniqueness of the beach city.
"It's a very lively, infectious, creative, sexy city with so much culture right in front of you," he said. "Working one week prior to Carnival, the city was alive and full of energy. From the streets of Leblon and Santa Teresa Art district to the beaches of Copacabana, Arpoador and Ipanema, it was easy to see how the people of Rio take their beach lifestyle seriously, making fitness, health, food and beauty part of their everyday life!"
Fortunately for us, Estevan has his camera and captured some of the street trends he saw and loved.
Water-to-street dresses, beach cover-ups and cover downs
Whether you're lounging on the beach or enjoying walking around the city, how you cover your bathing suit or bikini goes into many options. Praias (Brazilian sarongs/beach blankets) make a powerful statement in many options of patterns and colors. They are sold all over Rio, on the beaches or in the shops. Worn as a Sarong, as a strapless or halter dress, these are the easiest item to use as a cover up. Printed and patterned loose mini dresses as cover-ups make a great option to wear on the streets after a swim. Cinched at the waist or draped-back jersey cover-ups are a fresh approach to your basic closet. Try wearing a drawstring, lightweight mini skirt or a sarong for a half cover-down look, great to show off your novelty bikini tops.
Open work, from Grandma's crochet to laser-cut details
Taken from the continued Boho trend, these looks are always exciting in the beach culture. Laser-cut leathers or cottons add a another dimension to detail. Handmade crochets top and bottoms add a novelty look to your beach wardrobe. Lacey looks are a huge trend all over the world of fashion. Seen on dresses, tees and tanks, these details done in a pop of color are a fresh way to interpret the trend.
Board meeting, men's board shorts
It seems crazy to be talking about board shorts when half the U.S. is freezing. Not in Rio! With the summer weather averaging around 90 degrees every day, it was natural to see so many variation in men's shorts on the streets and the beach. From the 6"- to 9"- lengths, board shorts are the quickest item to wear from the gym to the beach to the streets. Striped patterned seemed like one of the most popular, mostly in cools colors with a bright pop of accent shade. Graphic patterns and blocking were another approach to the swim short. Contrast waistbands and lace-up waist details offered another variation of the short. These shorts seemed like the most likely option to the Sunga or the Speedo-length brief. Brazilian brands such as Osklen and Redley offered many options for patterns and prints on nylon or quick-drying microfibers. Long live Summer!
Ipanema Accessories
Very specific to the environment of Rio, accessories for summer were very natural, earthy and colorful. On the streets, totes and bags always had a rawness texture such as heavy linen or burlap mixed with a subtlety of soft leather or cottons. Handmade, home crafty items was also big in Rio, especially in shoes, purses, jewelry, leather goods. "Feira Hippie de Ipanema." the Hippie Fair, is held every Sunday in a public park. located two blocks from the beach. It's a melting pot of fashion, arts and crafts from local vendors, artists and craftsmen and a great a place to pick up unique, individuals pieces to add to your wardrobe or home. Walk along the beach sidewalks and you will find many small vendors selling varieties of accessories!
My last tip:
End the day of beach life with a delicious treat of "acai berry" frozen treat or an amazing cold "caipirinha" drink…..EU AMO RIO!
Xoxo, Estevan