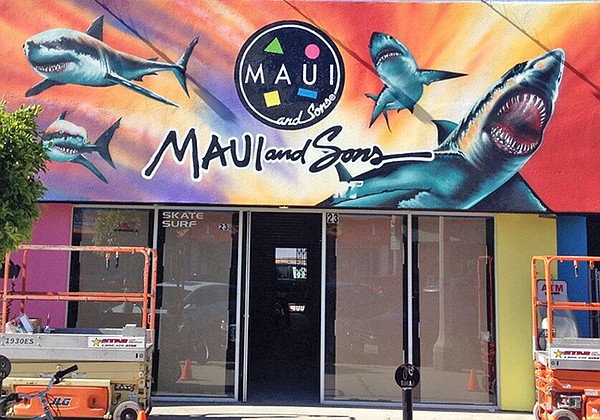 RETAIL
Maui & Sons Opens Flagship
The Maui & Sons brand is taking on more surf in Los Angeles' Venice neighborhood.
Since 2008, the 35-year-old-surf brand has run a shop at 1415 Ocean Front Walk in Venice. But it will open a 1,200-square-foot flagship store less than one mile away at 23 Washington Blvd., said Patricia Thornton, the Los Angeles–based brand's vice president of sales. The new store is scheduled to open the week of March 20.
The brand will continue to run the Ocean Front Walk store, which also serves as a core skateboard store. A lot of the store's sales space is devoted to selling boards and hard goods from a wide range of skate brands. The Washington Boulevard store will display the Maui & Sons brand's entire collection. It offers clothes for men, women and children. The goods range from boardshorts to hoodies and headwear. The brand's look is noted for its neon colors and its mascot, Sharkman, a muscular surfer with a shark's head. Maui & Sons has been placed at retailers such as Nordstrom, Macy's, Pacific Sunwear, The Buckle and core surf shops.
The new location will feature a mural painted by street artist Alex Castaneda and will open new vistas for Maui & Sons. Thornton said the flagship will attract a different demographic than the Ocean Front Walk store. "There will be more tourists," she said of the spot, located by Venice pier. It also is located across the street from Casa Ado, a restaurant in which brand owner Richard Harrington has invested.