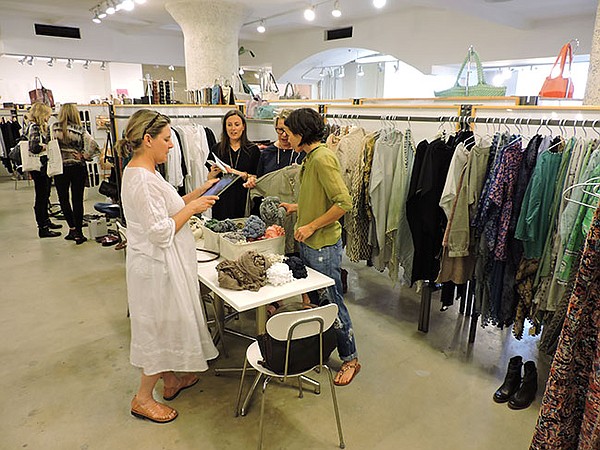 L.A. MARKET
Orders, Out-of-Town Buyers and Mixed Traffic Reports
Traffic appeared lighter than usual for March at the recent run of Los Angeles Fashion Week, but exhibitors said traffic was steady and reported landing orders from local and out-of town retailers.
The March 16–19 run of LA Market drew well-known retailers such as American Rag, Satine, Nordstrom, Neiman Marcus, Intermix and Shopbop.com as well as boutique stores from across California and the U.S.
In addition to the permanent showrooms located in the California Market Center, The New Mart, the Cooper Design Space, the Gerry Building and The Lady Liberty Building, buyers also had several temporary trade shows to shop, including Designers and Agents, Select, Coeur, Brand Assembly and Shape, the new athleisure show organized by the CMC.
Appointment-driven at CMC
Buyers from all sorts of stores and online venues were visiting the California Market Center to check out the various temporary shows and showrooms.
The prospect of finding department-store buyers at the CMC prompted Harry Choi to open a temporary showroom on the fifth floor for Tov, the young contemporary label he represents as director of sales. Tov already has a showroom at the Los Angeles Fashion Center on 12th Street, but Choi was hoping to find a new set of buyers.
"Right now we are selling mainly to specialty boutiques," he said of the street-chic line, which has a certain glam-rock vibe to it. The pieces often strayed from the ordinary with rabbit-hair sweaters mixed with mesh strips sewn on the sleeves. Gold sequined pants and dark-brown floor-length cotton dresses lined in camouflage added touches of creativity. The more conservative side of the collection—with silk blouses and dresses—is made in Italy from Italian fabrics. The line wholesales for $48 to $210.
But Choi was discovering that the CMC market can be more appointment-driven than walk-in traffic. "At the moment, it is not as trafficky as I thought it would be," he said. On Tuesday, the second day of market but the first day he had his temporary showroom, he had seen five buyers. Most of them were looking for Fall goods while he had Spring and Summer merchandise.
Also renting a temporary showroom was Janée Amber, who represents the women's collection for Kinetix, which for years concentrated on men's T-shirts. Now the new women's line consists of soft cotton T-shirts and tanks that have clever sayings screen printed on the front. They range from "I need a six-month vacation, twice a year" to "LA made me this way."
The four-day market was turning out to be fruitful for Amber. She saw the buyer for Ron Herman in Japan, who was placing orders for some of the women's T-shirts, which wholesale for $18 to $32.
Kristine Cleary whose multi-brand Kristine Cleary Lifestyles showroom is on the CMC's third floor, said market was very interesting this year. "Sunday was super busy. Monday was a little quiet, and then Tuesday, Wednesday and Thursday were very busy," she said. "Traffic was sporadic, but overall it was a very good market."
Weather is influencing how buyers are shopping, she observed. Warmer weather on the West Coast means stores want lighter fabrics for winter. "Manufacturers are going to have to address that," Cleary said.
Most of her buyers come from specialty stores, resorts and spa stores. Most are local or close to California, but this market she saw a store buyer from Vermont who didn't get to any New York shows because it was so cold and snowy on the East Coast.
Cleary's buyers are looking for novelty items. One big hit was her Hips Sister, a stretchy band of performance fabric worn around the hips that lets you carry your wallet, cell phone, keys and lipstick while you keep your hands free. Another popular item is something called Sleevey Wonders, a kind of lace, mesh or jersey cropped top with three-quarter-length sleeves that lets you expand your wardrobe, converting sleeveless and strapless dresses into frocks with more coverage.
Her Lisette L pant line, made in Montreal, has captured retailers' attention because it has been worn three times by Oprah Winfrey on the cover of her O magazine.
The New Mart: E-tail surge
The March market was the time for e-commerce retailers, said Jackie Bartolo of The New Mart's Jackie B Showroom.
Appointments with e-retailers surged compared with the same market the previous year, Bartolo said. Some e-tailers who visited her showroom included ModCloth, Lulus and Swell, a surf and beach fashion–oriented online shop headquartered in Irvine, Calif. Specialty retailers visiting the showroom included 42 Saint of Phoenix and Le Tote of San Francisco.
Bartolo said the market started strong with appointments coming in early on Sunday, a day before the official opening of the market. However, the pace of retail traffic declined by Wednesday, the third day of the four-day market.
Buyers seemed bullish, Bartolo said. "They are going deeper on the brands that are working for them," she said.
At The New Mart's The Gig Showroom, categories made all the difference. There were a lot of meetings for the showroom's men's styles, said Stacey Gossman of the Gig.
But meetings for the showroom's women's styles declined. It was because the showroom already had covered a lot of ground. "We've seen everybody between our January markets and February Curve shows in New York and Las Vegas," Gossman said.
Gig keeps a focus on intimates and lingerie and exhibits at the Curve trade shows, which also specialize in underwear.
Joel Gossman, a Gig co-owner, worried about the high parking rates being charged around the market. In downtown Los Angeles' construction boom of the past two years, many new projects have been built on the grounds of former parking lots.
There have been reports of a parking crunch in the city. Gossman forecast that it could spell trouble for future LA Fashion Markets. "Maybe people will say, 'I don't want to spend $40 for parking,'" he said. They will demand that sales reps travel to see them rather than going to a showroom building.
The Liza Stewart showroom introduced a new line during the market, C.S. Roberts, which is headquartered in New York. Stewart forecast that her sales would be greater than the LA Fashion Market in March of 2014. "Lines were performing well," she said. "Retail has picked up."
The New Mart proved to be a busy place during the market, according to a building representative. Buyer attendance more than doubled compared with the same market in the previous year, said Ashleigh Kaspszak, director of marketing and public relations at The New Mart.
High-profile retailers at Cooper
For Lien Vets, founder of the Noella showroom in the Cooper Design Space, the March market may have been a harbinger of a warm fall.
"When retailers come in, they say that they can't buy coats and they can't buy any sweaters. They're just interested in lightweight pieces," Vets said.
A new Los Angeles–based line, Cosette made its debut at Noella at market. However, Vets seemed to think that traffic at the market seemed slower than the March market of 2014. "It's been steady," Vets said. "We've seen some good accounts."
Los Angeles–based specialty stores such as American Rag and Satine were seen at the Cooper. Also, buyers from Nordstrom, Neiman Marcus, Intermix and Shopbop.com were reported to be in the building.
At the Cooper's Siblings showroom, Israel Ramirez noted that traffic at market seemed light. "January was better," he said. "But it is steady. Retailers are ready to spend money, and our regulars came in."
Ramirez said categories such as casual knitwear and printed dresses were being ordered by buyers.
For Patrick Heitkam of the Cooper's Ted Baker London showroom, the March market was punctuated by repeat business. "A lot of majors were in," he said. "There were a lot of independents looking for Immediates. We had a lot of people looking for reorders. That's how you drive business and keep the customers happy. We take stock risk in America so that we can be in a position to refill the best sellers." The Ted Baker line was founded in the U.K.
Sunday start for Gerry
Although most buildings and trade shows kicked off Market on Monday, March 16, some showrooms opted to open a day early for retailers who prefer to shop over the weekend. Sunday turned out to be one of the busiest days for showrooms at the Gerry Building, but Monday was equally as vibrant for many.
The showrooms that saw the most retailers were on the eighth and ninth floors, while traffic on the more sparsely populated lower floors was hit and miss.
Lisa Lenchner, sales manager for the Yu Li/Lulu showroom on the seventh floor, said her traffic was "okay."
Buyers who visited her showroom were writing orders for things such as Yu Li sweaters that had lace around the bottom, wholesaling for $49. Also popular were LuLu's sweats with tops trimmed with lace across the front and lace along the seams of sweatpants. Tops were wholesaling for $44, and pants went for $29. "Buyers are still looking at pricing," Lenchner said.
Season wraps at Lady Liberty
At the Lady Liberty Building, Kristen Aguilera, owner of the One Showroom, said she met with buyers from Neiman Marcus, Saks Fifth Avenue, Shopbop and Revolve.
"And they all wrote," she said. "We had appointments at 8:30 in the morning and never left before 7:30 [p.m.]."
Aguilera recently look on a new business partner, Eric Wheeler. The showroom represents apparel lines Blank NYC denim, New Friends Colony, Otherworld and Tiger Mist, accessories line Salt & Stone, and sandal lines Mystique, Elliott Label and Moses.
At the Kascade Showroom, Richard Derr, vice president of sales for Tiger of Sweden and a partner in Kascade, said it was a "pretty decent" market.
"We've seen our usual suspects and written some orders," he said. Derr noted that the season for men's collections ends sooner than women's collections but said he had some goods available for Immediate delivery.
Showroom founder Chris Cantrell said March market in Los Angeles is a chance to finalize orders with existing accounts and find a few new ones.
"We're here for new stores that pop up and wrapping things up," he said. "Some stores want to review their notes from Vegas and place their orders."
Steady at D&A
At the Sol Angeles booth at Designers and Agents, account executive Kevin Mobley was particularly busy on the first two days of the three-day show.
"It was definitely appointment-driven," he said. "We had some walk-ins and opened some new accounts."
For the Los Angeles–based knits brand, this was the third stop on a trade-show schedule that included New York and Las Vegas.
"That's the thing about LA market. We get to see the accounts we missed [at the other shows], he said, adding that in addition to stores such as Shopbop and Scoop, he saw retailers from California, Oregon, Colorado, Minnesota, Michigan and Washington.
This season, Sol Angeles introduced some new fabrications, including a luxe French terry and a Modal sherpa.
Kim White, designer of Los Angeles–based Kim White handbags and belts, described the market as "not great but not awful."
White said she primarily saw California buyers but also retailers from Hawaii; Nashville, Tenn.; Portland, Ore.; and Dallas. This season, White said, more retailers were taking notes rather than writing orders.
"I usually book," she said, but added that retailers typically place accessories orders last.
"They're not going to get their belts before they get their dresses," she said.
This was the second season at D&A for Los Angeles–based scarf designer Bryan Emerson. This season, Emerson launched a collaboration with Karlee Parrish of Parrish Workroom. Parrish was showing hand-stenciled and printed pieces, including a long skirt with a fold-over waistband and a slouchy pair of harem pants.
"It hasn't been terribly busy but really steady," Emerson said, adding that she opened a store in the Virgin Islands thanks to an order placed by a buying office that specializes in resort retailers. Emerson had first met the buyer two years ago at the Brand Assembly show but landed the first order at D&A.
Marilyn Portanova was showing the recently relaunched Mona Thalheimer shirt collection at D&A. Portanova said she landed some good stores in Laguna Beach, Calif.; Washington state; and Florida.
"Now I'll go after the smaller stores that I have a relationship with," she said. But I have limited time. Already, a lot of my stores are bought out. There used to be more time between the shows. The window is getting smaller and smaller."
According to organizers, traffic at D&A doubled on the first day over last year. But co-founder Ed Mandelbaum noted that last March, D&A was testing a Sunday opening day before deciding to shift back to a Monday-through-Wednesday format. Still, traffic was slightly ahead of the number from two years ago, when D&A was on its original Monday-through-Wednesday schedule.
Mandelbaum said he was feeling positive because of the increased traffic and was anticipating a greater turnout from European and Japanese buyers as the denim market rebounds.
"We've had some international [buyers], but it used to be a lot more," he said. "Denim goes through peaks and valleys, and I feel like we're on the cusp of it gaining again. When denim gets hot, it's not just denim [all categories do well], and Europe and Japan flock to that."
CMC launches Shape
With the athleisure clothing category hitting its stride, a new show highlighting that segment was launched by the California Market Center to coincide with Los Angeles Fashion Market.
The new Shape show invaded the CMC's 13th-floor penthouse with some 30 exhibitors.
Most of the vendors were glad to have a show they could call their own that concentrated on yogawear, athletic pants, tops and accessories to go with them.
A lot of the buyers were from either yoga studios, yogawear shops or athleticwear boutiques.
Jin Ryee of Aimee M was surrounded by walls of patterned leggings that come in 120 different designs created with sublimation printing. All the fabric comes from Taiwan, but the garments are cut and sewn in Los Angeles and wholesale for $34.
Ryee was seeing buyers from mostly gyms, yogawear stores and athleticwear shops. While traffic wasn't super busy, he was realistic about how much business would be done at a new show. "This is the first show, so you can't expect too much," he said as a yoga-studio owner wandered by and took note of the unicorn print on one pair of pants as well as other designs.
One buyer from a contemporary store in Boulder, Colo., Ryee said, noted she was interested in the printed leggings to pair with some regular sweaters and tops. "It's not a legging legging these days but a part of fashion," Ryee said.
Megan Lengyel, owner and chief executive of SQN Sport, was contacted by the CMC about the new show, which interested her. So she flew down from her office in Sun Valley, Idaho, where she also has a store. She is just branching out into the wholesale market after concentrating on online sales and her own retail sales.
She was getting a good response to her women's luxury activewear line, which incorporates fabric made in Los Angeles. Her collection includes leggings, fleece ponchos, viscose T-shirts and coverups that wholesale for $21 to $40. In the first two days of the show, Lengyel said, she had seen about 20 buyers from all over the country. "I have met good people so far," she said on the second day of the show.
Last year, L'Etoile Sport exhibited at the Select show, located in the Fashion Theater in the CMC building. But that wasn't the right fit for the company, so the New York–based venture decided to try out the new Shape show to display its mostly contemporary tennis and golfwear. For Fall/Winter 2015, the company is expanding into athleisure.
Lindzi Ebernik and Sophie Caster, who represent the line, said buyers perusing the show were interested in the skorts and tank tops the company manufactures in New York. Resort shops were looking for cute athletic dresses. The median wholesale price point for L'Etoile items is $65, but the V-neck flapper tennis dresses go for $165.
Curated mix at Coeur
Accessories, apparel and home décor brands showing at Coeur during its March 16–18 run on the top floor of the Cooper Design Space were pleased with the turnout.
"Overall, the show has bene very positive," said first-time exhibitor Lynn Rosetti, owner of the #8 New York showroom. "The mix of brands is excellent. [And] I've done every show known to man over the years."
Rosetti was showing several handbag lines, including her own Oliveve line, as well as Hare + Hart and Marie Turnor and several jewelry lines, including Poupette and Vanessa Lianne.
Because it was her first time at the show, Rosetti set a moderate goal for orders to land at Coeur.
"We definitely surpassed it," she said, adding that she saw buyers from J Crew and The Dreslyn.
This was the second time at Coeur for Davey Napoli, senior director of sales for Miami-based accessories line Mainsai. The collection, which launched in 2009 as a men's line, has expanded to include unisex pieces as well as a women's collection, which bowed for Spring 2015.
With core wholesale prices ranging from $25 to $95, Mainsai's men's collection is carried at Neiman Marcus, Saks Fifth Avenue, Bergdorf Goodman and Nordstrom, and the women's line is carried at Barneys and Intermix.
Napoli, who only showed the Mainsai women's line at Coeur, said the turnout at Coeur was predominantly from West Coast retailers.
"It is more California than elsewhere, but we saw a couple of Midwest accounts and a couple of European [stores]," he said.
In recent seasons, Coeur has expanded from its focus on accessories collections—including jewelry, handbags and footwear—to also include home décor and lifestyle lines.
Designer Anita Arze was showing her eponymous line of sweater knits for the first time at Coeur.
"It's beautifully curated show," she said. "The lines feel special. I've seen a few really good stores."
Designer Pegah Anvanian was at Coeur to launch her new collection, Prose & Poetry. Anvarian, who relocated from Los Angeles to New York, decided to launch at Coeur because show organizers Henri Myers and Lisa Elliot represented her former Pegah Anvarian collection.
Anvarian said she saw several retailers at Coeur, including Des Kohan.
Steadily busy at Brand Assembly
Exhibitors at the March 16–18 run of the Brand Assembly show on the top floor of the Cooper Design Space said business started strong and remained busy throughout the three days of the show.
"This is busier than any third day I've had in over two years," said show organizer Hilary France.
It was the same at the Monrow booth, where appointments were booked on all three days.
"I wish it was a four-day show instead of three," said Ashley Sarbinoff, a representative for the Los Angeles–based collection. Sarbinoff said she saw retailers from all over the United States but not as many international buyers as she typically sees at Brand Assembly.
"We usually get Japan here," she said. "But we just signed with a Japanese distributor."
This season, several collections were new exhibitors to the show, including Los Angeles–based Calvin Rucker.
"I love the atmosphere," said co-founder Joie Rucker. "It's clean and open and relaxed for everybody, not just us but the buyers also."
Rucker said she saw buyers form Texas, Colorado, Seattle and New York at the show.
Peter Russell, Calvin Rucker's vice president of sales, said the second day of the show was the busiest of the three.
"Yesterday was nonstop," he said on the last day of the show.
Designer Mila Hermanovski returned to Brand Assembly after skipping a season. Hermanovski was at the trade show a week after showing her eponymous collection on the runway at the Los Angeles Fashion Collective during Los Angeles Fashion Week.
This season, Hermanovski's booth was tucked into a back corner of the show floor, which impacted her business.
"I really rely heavily on walk-ins," she said. "I've opened great accounts in the past at this show." Hermanovski said that at a past Brand Assembly show where she was more centrally located, she landed an order from Holt Renfrew.
"It's all about the placement," she said.
Getting Selective
The majority of the 35 companies at the Select show in CMC's Fashion Theater were accessories companies, but there were more clothing labels this season than in the past.
Taking part in the show for the first time was Rock 'N Karma, a Canadian company owned by sisters Naomi and Devorah Shapiro. They had only signed up for the show a week before it started after being contacted by the CMC to participate. They had never done a West Coast trade show before, concentrating on the East Coast, where they recently attended Coterie and Stitch.
Their line of women's contemporary wear is heavy in stylish black dresses, pants and tops, but some very stylish and artful prints and accents made the line stand out. "The show has been quiet, but the people we have seen walk by have given us a good response. They were happy to see something new," Naomi Shapiro said.
A more local company at the show was TLC & You, which makes accessories such as handbags, wallets, scarves, sarongs and jewelry that is designed in Laguna Hills, Calif., and produced in Indonesia. The line has a very walk-in-the-sand feel to it. The label has been at the show at least four times now, said Taylor Cole of the company's marketing department.
She said most of the buyers stopping by her booth had been specialty stores looking for accessories and dresses as well as sarongs, sunhats and jewelry.
Drop City
The intimate and independent designer showcase at Henry Duarte's studio on Los Angeles Street finally got an official name this season: Drop City, in homage to the 1960s hippie commune of the same name.
The designer showcase, which ran March 16–19, featured several returning exhibitors, including jewelry and accessories designers Beth Orduña; Danielle Welmond; Jaga Buyan, designer of the Jaga and Duuya collections; footwear and accessories designer Calleen Cordero; and designer Peter Cohen.
Randee St. Nicholas, designer of RSN Boheme, who had showed once before with the group, returned to show her latest collection.
St. Nicholas said she met with some of her existing clients as well as a few buyers she hadn't met before.
"They like the idea that it's just a few designers," St. Nicholas said. "They can take time and focus."
Heidi Richardson, who represents designer Peter Cohen, said she also met with existing customers and potential new ones.
"They're coming to see the people here. They're not just walking through. And they stay," she said.
This was the first time Jane Booke and Sydney Curtis joined the showcase. The two designers have been collaborating on their lines. Booke designs a collection of romantic, feminine pieces under the name Jane Booke, and Curtis designs a collection of jewelry under the name Aireheart by Sydney.
Booke described Drop City as "very insider, hipster, cool." Curtis praised the atmosphere of the event and mix of designers.
"It's not a cubicle, and it's all designers here," she said. "The buyers want to meet with the designers."
Designers can best explain the creative process behind the collection to the retailers, Curtis said. "I put my heart and soul into making [my line]. I want them to be in love with it when they buy it."
One of the new exhibitors was Yasmine Staub, who was introducing her first collection of handworked scarves under the name Y&D. Made from cashmere, merino wool and silk, the scarves are wholesale priced from $125 up to $220 for the larger styles.
Orduña said Drop City is turning into a boutique showroom, which they plan to host four times per year. On the second day of the four-day event, the designers were scattered around the space, working with customers and finalizing orders. Orduna decline to name which retailers dropped by, saying, "Part of the attraction for the buyers is they have a hidden gem. We've got to keep some mystery."