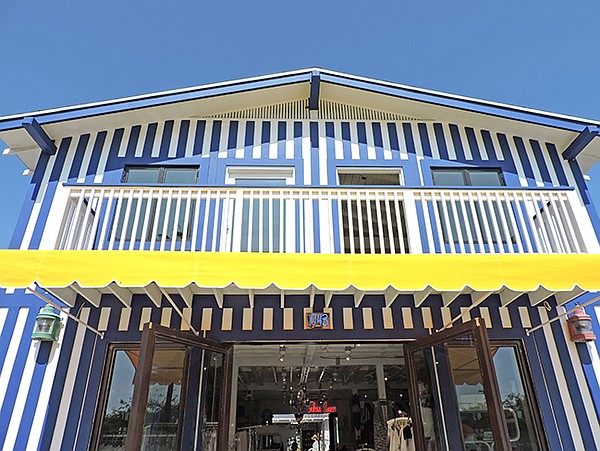 RETAIL
Abbot Kinney Beach House Opens in Venice
Single-brand boutiques increasingly dominate high-profile shopping street Abbot Kinney Boulevard in Los Angeles, but one of the newest boutiques on the street, Abbot Kinney Beach House, is a multi-brand shop.
Painted blue, white and yellow, Abbot Kinney Beach House was intended to be a store to equip people for a vacation to a beach destination, said Stephen Soller, a co-owner in the venture.
"Once a year, go someplace you've never been before," Soller said. The quote is part of the Dalai Lama's "Instructions for Life," which was published by the Dalai Lama Center for Peace and Education, based in Vancouver, Canada. Last year, Soller saw the quote emblazoned on a suitcase, and it gave him some inspiration for the boutique.
Abbot Kinney Beach House opened on Valentine's Day at 1043 Abbot Kinney Blvd. in a 2,000-square-foot space that formerly served as a private residence. It sells everything from luggage from Globe-Trotter, a U.K. brand that is more than 100 years old, to toothpaste from Marvis, a boutique label with a wide range of apparel. There are vintage dresses refurbished by U.K. brand Place Nationale, women's tees by the Only Hearts label, Monrow, Dolan, Sol Los Angeles, cotton dresses from Ethiopian-brand Lemlem and coverups by store brand Beach House as well as men's swim trunks from brands such as Frescobal Carioca, headquartered in Brazil; The Rocks Push, based in Sydney; and Original Paperbacks, a Los Angeles–area brand.
Soller wanted to stock swim brands that locals and tourists may not have heard of, which is one reason why Abbot Kinney Beach House did not carry boardshorts from high-profile Southern California brands when it opened. He estimated that 50 percent of the people visiting the shop are tourists from around the United States and overseas.
Those visiting the store will cross a foyer bearing colorful tiles made in Nicaragua; see ceiling fans from Italian company Boffi, Murano glass chandeliers and cabana-like dressing rooms; and pass by antique furniture and shelving that came from shutters of beach homes.
The store was intended to communicate a European sense of travel and beach culture. "We wanted to go with the original vision of Abbot Kinney (the developer who built the Venice neighborhood in 1905) and bring the feel of Europe and Italy to our beach community," Soller said.